One Giant Thrust for Space Propulsion
Belfast has become a key manufacturing hub for UK space technology after the announcement that a radically new, all-electric propulsion system for Europe's latest communications satellite is being built in the city.
Thales UK announced that manufacturing of the Xenon Propulsion System (XPS), at its new £6 million space propulsion centre has achieved a major production milestone with the completion of the first engine module ready for delivery.
The engine modules produced in Belfast will propel the Spacebus Neo satellite, built by Thales Alenia Space in France. The Spacebus Neo platform has been developed under the European Space Agency's Neosat satellite programme. This protoflight Spacebus NEO platform will be launched in 2019 as the Konnect communications satellite, operated by Eutelsat to deliver high speed internet to sparsely populated and isolated regions.
Victor Chavez, CEO of Thales UK, said: "Thales is proud to be at the forefront of next generation space technology. Our investment in Belfast to support the growth of Thales Alenia Space in the UK is a testament to our commitment to the UK space sector. The support of the UK government and Invest Northern Ireland alongside the unique skill sets of our people were instrumental in our decision to manufacture this technology in Northern Ireland."
Thales has a long relationship with Northern Ireland, attracted by the region's engineering reputation. Iconic aircraft manufacturers Short Brothers became Thales Air Defence in 2001 and Belfast beat international competition to build XPS because of the availability of existing high precision engineering skills from the defence market.
The space propulsion centre, joint funded by the regional development agency, Invest Northern Ireland, represent a major investment in the area and was opened by astronaut Tim Peake in 2016.
Thales currently employs 200 people in space-related jobs at sites across the UK and the total is estimated to grow to 350 by 2020. Thales and Thales Alenia Space intend to build a strong, regional footprint in the UK, developing a highly-skilled workforce and investing in research and development.
XPS: A new technology
The UK's first electric propulsion system for geostationary satellites represents a new generation in propulsion and will have a significant impact on future spacecraft performance.
Chemical propellants are traditionally used to propel communications satellites. However, XPS uses electrical energy generated by the spacecraft's solar panels to ionise and accelerate Xenon gas from a Hall Effect Thruster, generating thrust.
The ionised Xenon is propelled from the thruster at speeds of more than 19km/s or 42,000 mph which means that very little Xenon gas is required to achieve the necessary thrust compared with a chemical propellant. As the Xenon takes less volume and weight to store, so XPS allows satellites to carry larger payloads, driving down operating costs.
Once released from its rocket, XPS manoeuvres the satellite into its correct geostationary orbit and keeps it there for the remainder of its lifetime, travelling at 3km/s or 6,700mph at an altitude of nearly 36,000km or 22,000 miles, above the Equator.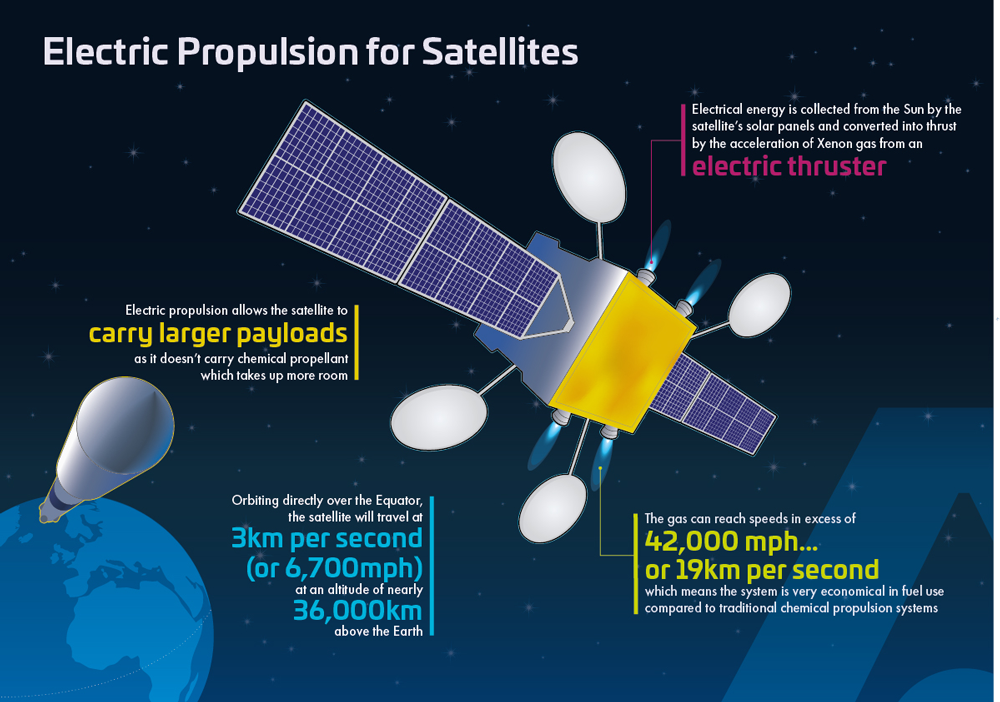 An international effort
Specialist teams from Belfast, Harwell and Cannes sites designed the XPS module and its manufacturing process. Engineers at the Belfast site are engaged in assembling the propulsion module, including its fuel tanks, steering mechanisms, fuel lines and electric thrusters, before it is shipped to Thales Alenia Space in Cannes for integration with the Spacebus Neo satellite and testing.
Ben Oliver, CEO of Thales Alenia Space in the UK, said: "The all-electric propulsion module, designed and built by specialist teams in Harwell and Belfast,  represents the strong commitment of Thales Alenia Space to create, sustain and grow world class innovation, design and advanced space engineering skills in the UK,  producing important contributions to future space programmes. This event is an important delivery milestone not only for Eutelsat, Thales Alenia Space and Thales but also for our stakeholders in Invest Northern Ireland, the UK Space Agency and the European Space Agency.  This important step is a reflection of the UK's dynamic and growing space sector.   The UK space industry is a key pillar in the Government's Industrial Strategy for economic growth in the UK and the delivery of this module is a tangible example of the progress of that strategy and represents a significant investment in the UK by Thales Alenia Space"
Thales Alenia Space is a leading designer and manufacturer of geostationary satellite solutions. The company is prime contractor for the 2020 ExoMars mission and was involved in the construction of the International Space Station in which Tim Peake spent six months in 2015.