The people behind the power – meet Jim Bennett, QEC programme director at Thales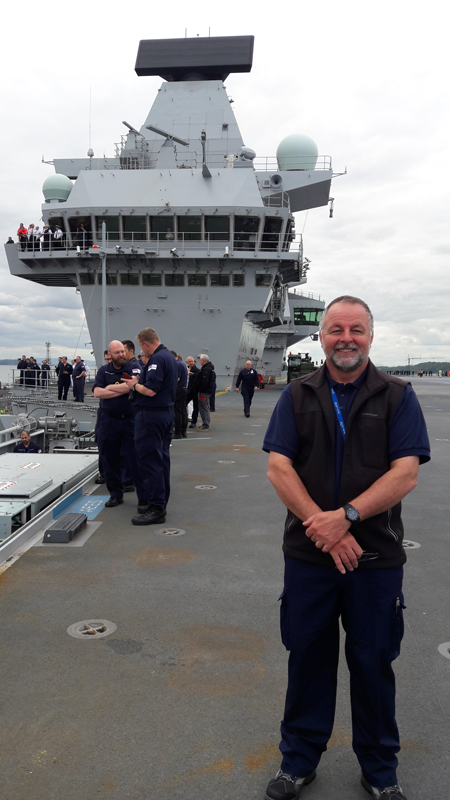 HMS Queen Elizabeth is undoubtedly a formidable proposition. But imagine the forbidding challenge laid down to a Thales-led team at the start of the ship build to deliver and integrate the vast and complex power and propulsion systems without interrupting the build of the carrier.
That's diesel and gas turbine generators, propulsion drives, shaft lines and propellers, high voltage switchboards and many smaller pieces of equipment – kit ranging from 20kg to 200 tonnes. Imagine a complex, time critical engineering challenge inside what was already a ground-breaking ship build in its own right. 
Step forward the Power and Propulsion Sub Alliance, where Thales worked alongside Rolls-Royce, L-3 and GE Energy in an innovative partnership to deliver the two aircraft carriers P and P Systems to budget and within schedule.
The team was led by Jim Bennett, current QEC programme director, who said: "The challenge for my team was immense as much of our work was critical to the wider build schedule. We had what we call lockout items – things like the engines and propulsion motors, which had to be installed early and the ship literally built around them – if they were delayed, so was the whole ship build schedule."
Based out of Bristol's Building 550, the sub alliance team worked alongside the wider Aircraft Carrier Alliance in what was a real rainbow alliance which went on to win a number of awards for engineering excellence and team working.
Jim said: "It was a mix of industry, MoD, DE&S and Royal Navy personnel. We had people from Thales, BAES, Rolls Royce, GE, L-3, and BMT plus a myriad of contractors and of course the customers embedded staff. You didn't know who was from where, but it didn't really matter as we acted as one team."
"Thales Building 550 was the epicentre for the design of a carrier on a scale the UK had never seen before. Credit to the MOD – creating an alliance was a masterstroke. Someone said the alliance worked because no one company had all the skills and capability to deliver a project of this size. So we said, ok, we're now one team with a clear objective, to deliver the most capable and impressive pair of aircraft carriers to the Royal Navy."
"It worked because we had a clean sheet of paper to start with, a clear solution and a known aircraft type. We brought in experts and most importantly, they largely stayed for the duration, so we had continuity. We were also led by the original QEC Programme Director John Ward, an ex-Navy Aviator who understood the customer."
The strategy of bringing in experts worked with Jim who, before Thales, was a leading engineering expert with P&O and the cruise industry.
He said: "Working with cruise ship power and propulsion for two decades was a positive experience to bring to the carriers. Two of the many ships I worked with were Diamond Princess and Grand Princess, both cutting edge in terms of design. A cruise ship has to be quiet, economical and reliable and there were certainly benefits of concept and design that could be transferred to warships.
"Cruise ships also tend to use Integrated Electric Propulsion (IEP), an innovative system where all the ship's engines produce electrical energy rather than driving the shafts. This gives you the critical flexibility to position your power systems around the ship which are connected by cables. 
"It's no coincidence that HMS Queen Elizabeth and HMS Prince of Wales are the largest warships in the world to be powered by IEP and, for their size, they are impressively quiet. The propulsion system is highly advanced and very resilient and the power generation/distribution is spread across four locations, designed to maximise availability and minimise intrusion to the hangar and flight deck. 
"That was an amazing moment when we turned on the ships' engines for the first time. It was late autumn 2015 in a very cold Rosyth. I was very fortunate to be at the Sea Trials of HMS Queen Elizabeth, some fifty days of tests and trials across the many ships systems, but it went surprisingly well for such a unique first of class. As the trials completed, it was an immensely proud moment (and quite an emotional one) as she sailed into Portsmouth Harbour for the very first time. 
"To see and feel HMS Queen Elizabeth underway was amazing - it brought it home just how innovative the ship is – the Thales design, the twin islands, the many innovative features of a vessel designed around an aircraft (F-35b) and the high levels of automation being appreciated by the Ships Staff.  Because of the clever design and technology, the ship's company is less than 800 compared to other navies with similar sized ships with crews of 2,000 or more. 
 "It's been a huge highlight in my career and I think all of us take a genuine pride that CSG21 is now going to give a lot of people around the world the opportunity to see what a fantastic ship HMS Queen Elizabeth is."