Pride Month: This year, Thales in the UK celebrate through virtual events
June is when the World commemorates the Stonewall riots in New York and the changes they inspired - bringing improved rights and protections to millions of LGBT+ individuals and their families. In normal times 'Pride Month' is when parades are hosted in many large cities and when Thalesians would attend Let's Learn events, participate in the festivities, and discuss what they can do to keep Thales a LGBT+ inclusive place to work.
Although COVID-19 has disrupted many of those face-to-face activities, it cannot stop the spirit of the month. Many activities have shifted to online forums, and Thales is pleased that it has been able to support one of these, the Pride in Defence – Virtual Pride hosted on Saturday 28th June.
Our commitments to LGBT+ inclusion are not just for June
Last year we were delighted to join the Stonewall Global Diversity Champions Programme with the aim of better integrating Diversity and Inclusion into all parts of the UK business.
Thales is also a signatory of the 'Autre Cercle' LGBT+ Charter, which was signed in France by Group Chairman and CEO Patrice Caine.
In addition to the partnership with Stonewall, we have also a very active LGBT+ committee. Its purpose is to champion LGBT+ staff community; help signpost colleagues to related services; and support associated internal and external initiatives, such as Pride.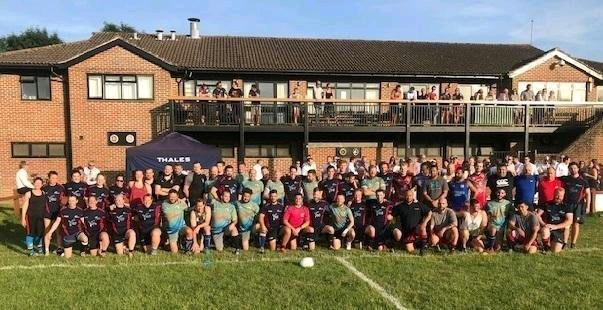 Scott Heath BEM, Work Package Manager at Thales Transportation, is one of the Members of the committee. "Having these types of Networks is very important for building an inclusive and supportive culture for our LGBT+ colleagues. One of the biggest impacts for Members of our community can come from knowing people within the business who can understand both their work pressures and problems they may encounter outside of the office. With a lot of face-to-face interaction reduced due to the pandemic, people may need to turn to these support networks more than usual. We can also offer Let's Learn workshops to help provide insight into topics associated with LGBT+ which many colleagues have participated in and have found useful."
Last July, the Committee organised a rugby tournament in Crawley, which saw Thales employees play against local teams, whilst wearing rainbow Stonewall laces in aid of LGBT+ and mental health charities.
"The studies associating improved mental health and exercise are extensive, as are the ones which show an increase in use of mental health services by the LGBT+ community. This event not only allowed us to discuss the importance of being able to access support when needed, but was a really fun and engaging way to bring colleagues together. I hope we can bring this back in 2021".
Read more about Thales's commitment to Diversity and Inclusion