Protecting UK Armed Forces from threat of biological attack
Thales is proud to be part of a joint Ministry of Defence-industry team to be recognised for its excellence in delivering UK armed forces with a 'world leading and unique' surveillance system to protect troops from the threat of biological attack.
The CBRN Delivery Team was presented with a Minister for Defence Procurement Acquisition Award by Harriett Baldwin MP at a ceremony at the MOD Main Building on November 28.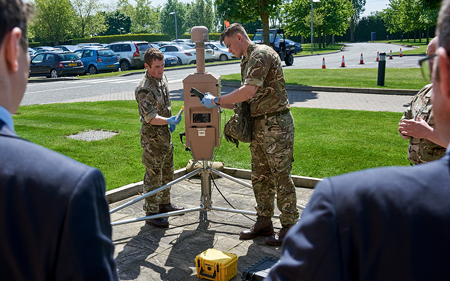 ​The new protection system is called Biological Surveillance and Collector System (BSCS) and the first were signed into service earlier this year to be operated by the RAF Regiment.
CBRN stands for Chemical biological, radiological and nuclear and the system is designed to protect UK's forces overseas from biological attack by detecting incoming attacking particles in the air through specialised sensors and evaluating equipment.
Developed by Thales in partnership with Defence Equipment & Support and Dstl, the programme involved a partnership of 26 organisations  and SMEs, the majority from the UK. Technical partners and experts, including Williams Advanced Engineering, were selected to build this leading edge technical solution.
Speaking during the system's launch earlier this year, Air Commodore David Lee, responsible for the delivery of this capability into service, said "BSCS is a critical capability for our deployed forces in an uncertain world. Asymmetric Warfare has presented CBRN challenges, the most recent of which being the chemical attacks in Syria - the biological threat to our forces is no less critical."
"The integrated project team of DE&S, Thales, Dstl and the RAF Regiment have worked extremely hard over the last two years to develop this world-leading and unique system."
Gareth Williams, Vice President of Thales UK's Security business, said: "We are delighted to have part of the wider team to receive an award from the Minister.  Our team has developed this leading edge biological surveillance capability through excellent cooperation with the experts at Dstl and DE&S and technical partners such as Williams. Working together with a strong UK supply chain - including SMEs - has been key to its success."
Minister for Defence Procurement, Harriett Baldwin, said:

The Biological Surveillance and Collector System (BSCS) system is a cutting-edge piece of kit that uses innovative technology to protect our troops from biological attacks through using specialist sensors to detect incoming threats. In the last year we spent £18.7bn with industry to support programmes like this to keep our troops safe in some of the most hostile environments.