Recycled Germanium a 'Gold Mine' for Local Charities
During the COVID 19 pandemic people across Thales and the UK are doing what they can to help those most affected. However, because of the keen eye and knowledge of one Thales employee in Glasgow a few local charities are getting a little extra boost and it is all down to recycling.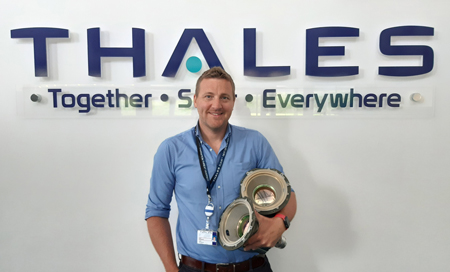 Kyle Gardner, a Thales Integration and Testing Manager, found himself looking at a pile of no-longer-required optical equipment and realised that he may be sat on a 'gold mine', or rather a germanium mine.
"Having worked in the optical test department at Thales for ten years I know the cost of 'buying-in' Germanium lenses", said Kyle. "Knowing this, I came across a small amount of the material while cleaning out a lab cupboard", he continues, "and wondered if we could sell this material back to suppliers to raise money for charity, as we currently do for our common metal scrap". After some internet searching and a few dead ends Kyle found a buyer of germanium based in England.
Germanium is the material used in making lenses for thermal imaging cameras, night vision, and hot-spot detection cameras because it is transparent in the infrared wavelengths. Germanium has been used in this way for over 40 years during which time Thales have been at the forefront of optical technology. As long ago as the 1970's the Thales Glasgow sight was putting Thermal Imaging cameras into the CVRT for the British Army, followed quickly in 1983 by the TOGS 1 TI sight on the Challenger 1 main battle tank.
So while others across Thales were doing everything from contributing to the Ventilator Challenge UK Consortium, 3D printing PPE visors for the NHS, providing cyber security to the NHS in Wales, as well as finding ways to continue to deliver to the UK MoD and our customers whilst observing new, strict rules and regulations, Kyle Gardner was starting the process of recycling a pile of old germanium lenses.
"It is a story of ultimate recycling", observes Steve Lockley, Manager of the Optics business in Glasgow, "optical sights sometimes come back to Glasgow for repair, and on occasion they are unfortunately irreparable".
Kyle closed the deal with a company who could use the germanium in the Solar Panel Market and got to work packaging up the scrap. "They bought the lenses, removed the coatings, and then re-smelted the material to sell on", explains Kyle, "this resulted in our 'scrap' being completely transformed". The resulting germanium was valued at an incredible £12,500.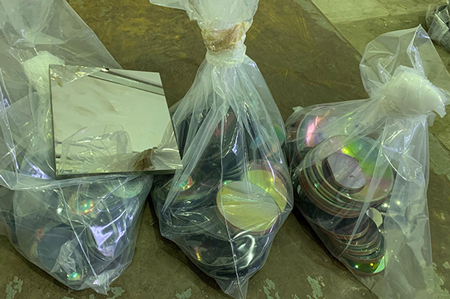 Straight away £2,500 was given to Ronald McDonald House which is situated just at the end of Linthouse Road, the location of the Thales Glasgow site. For the remaining £10,000, Thales consulted its local constituency MP, Chris Stephens, and on his advice it was given to 'Feeding Britain', a Citizen Supermarket, also based in Govan, Glasgow. Andrew Forsey of Feeding Britain said: "We are incredibly grateful for [Thales's] generous support which will go a long way towards the development of our next Citizens' Supermarket, in Glasgow South West".
 "It's fantastic to see this money being spent locally", says Kyle, "giving something back to the community where we work. Ronald McDonald house is directly opposite the factory and most of us drive past it every day", he continues, smiling, "it's great to be able to drive past now and know we have helped them a little, supporting the amazing work they do for the families of sick children".
Steve Lockley concludes; "I am just so proud that the forward thinking of one person in our organisation could result in such a fantastic charitable donation", and all thanks to some scrap germanium and the inquisitive mind of one Thales employee.
As the Covid-19 pandemic continues to spread, Thales employees are fully mobilised in the battle to overcome the virus and deal with its consequences. Find out what Thales is doing as a company and how individual employees are showing their solidarity by lending technical expertise and innovative ideas here.