Royal Academy Fellowship honour for leading Thales engineer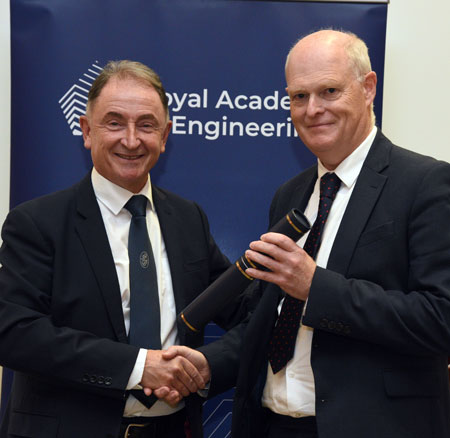 One of Thales Group's leading engineers has been elected to a highly prestigious Fellowship of the Royal Academy of Engineering for his exceptional contribution to science and technology.
Dr Paul Gosling, Chief Technical Officer for Thales in the UK, was among 69 leading engineering figures in their field to be honoured with Academy Fellowships.
The Fellowship award represents the nation's best engineering researchers, innovators, entrepreneurs, business and industry leaders. Election to the Academy is by invitation only; Fellows are elected each year by peer review from nominations made by existing Fellows.
A leading authority on maritime combat systems, Dr Gosling made decisive contributions to the development and successful introduction into service of the Royal Navy's principal sonar systems. As a Thales Fellow, he is one of approximately only 20 individuals worldwide recognised in this way for their specialist expertise.
The group consists of 60 Fellows, four International Fellows and five Honorary Fellows, with each individual having made 'exceptional contributions to their sectors in their own way, as innovation leaders, inspiring role models, or through remarkable achievements in business or academia'.
These new Fellows have now been admitted to the London-based Academy, which comprises nearly 1,700 distinguished engineers. In joining the Fellowship, they will add their capabilities to the Academy's mission to create a sustainable society and an inclusive economy for all.
Sir Jim McDonald, President of the Royal Academy of Engineering, says: "Our Fellows represent the best of the best in the engineering world, and we welcome these 69 excellent and talented professionals to our community of businesspeople, entrepreneurs, innovators and academics."
Speaking of the award, Dr Gosling said: "I am hugely honoured by the Fellowship, particularly for the fact you have to be nominated by your peers, you cannot simply apply. There are only a relatively small number of Academy Fellows and when you look at their achievements, it is a privilege to be asked to join.
 "On a personal level, it is a very proud moment for me, but I am also conscious it reflects so positively on the contribution Thales has made to society in the fields of science and engineering. Technology is at the heart of what we are and I believe the pandemic has shown us just how important it can be in leading the way back to a more normal society.
"I am also particularly excited to be joining the Academy at this time with its strong commitment to harness the power of engineering to build a sustainable society and invest in diversity and inclusion. These are values that I feet sit well with the Thales vision.
"I was the first member of my family to go to university to study for a degree, I didn't come from a background of established academics and have always been conscious that decision took me on a path that quite literally changed my life.
"I have always enjoyed my career and the challenges it has brought me and I want to help inspire the next generation of engineers and scientists.
"I am very much looking forward to being an active and contributing member of the Academy."