Thales and Gamma expand partnership to give customers greener eco-SIM cards
Smartphone users can make calls knowing they helping to combat global warming thanks to new "Eco-SIM" cards made by Thales using 100% recycled plastic from old refrigerators.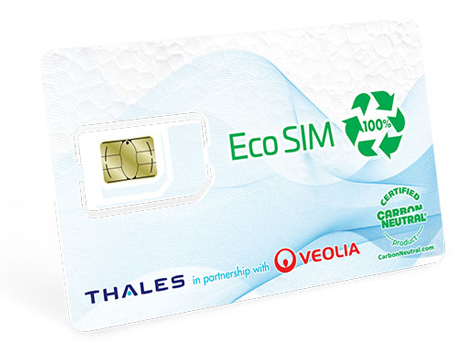 Gamma Communications plc has chosen Thales's Eco-SIM cards to deploy across its network of channel partners and business mobile customers to promote a more environmentally friendly, sustainable product.
This announcement of an expanded partnership is a major step in making the telecommunications market more sustainable by providing a green plastics supply flow to Gamma.
Around 4.5 billion SIM cards are produced every year, using 20,000 tons of plastic. Thales's Eco-SIM, developed in partnership with Veolia over three years, is the first of its kind to be made from upcycled plastic.
The card is manufactured out of 100% recycled polystyrene recovered from the internal padding of discarded refrigerators, saving nearly 5,000 metric tonnes of newly manufactured polystyrene each year and reducing its manufacturing carbon footprint by 15,000 tonnes annually.
And at the end of its life, the recycled plastic from each 4-gramme Eco-SIM card can also be reprocessed to produce new plastic parts.
Thales has supplied SIM cards, applications and device management services to Gamma since 2016 and the switch to Eco-SIM provides an opportunity for both companies to progress their ecological transformation and contribute to a recycling economy.
The project will also benefit from Thales's carbon offsetting programme, which includes reforestation and development in renewable energies, to ensure that manufacture of the Eco-Sim is certified CarbonNeutral®.
This reflects both companies' long-term commitment for safeguarding the environment and Gamma's certification as a Carbon Neutral company.
Emmanuel Unguran, VP Mobile & Connectivity Solutions at Thales said: "Business should constantly be looking for new and innovative ways to connect with customers, meet their needs and respond to their priorities.
"This development of our existing partnership highlights both Thales's and Gamma's commitment to greater sustainability and taking responsibility for our impact on the environment which is what our customers expect of us. We also think it's so cool that mobile phone components can be made from recycled refrigerators!"
The announcement will allow Gamma to become the first network to go carbon neutral in its sector.