Thales continues to invest in digital technologies in the South-West with new state-of-the art manufacturing facilities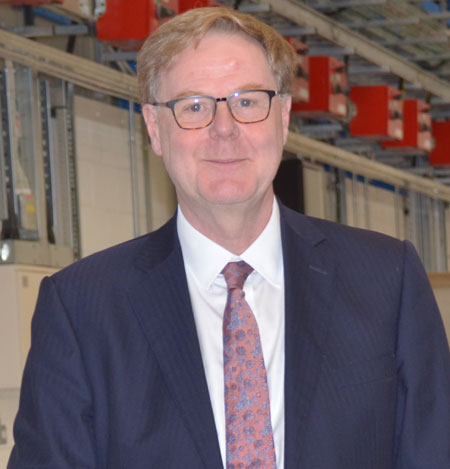 Thales in the UK has opened brand new high-tech manufacturing facilities for developing advanced sonar technologies. The facility was declared open by Ian Booth, CEO of the Submarine Delivery Agency (SDA) for the Ministry of Defence. 
The £25 million high-tech build was made possible by working with many specialist SMEs. Maximising the use of digital manufacturing such as robotics and connected digital twins will create a safe, secure controlled working environment that will benefit both employees and customers. It will ensure all equipment and product flow is operating in an optimum, safe condition whilst predictive maintenance will keep the production line running efficiently.
In addition, the new facility provides a better working environment for over 125 highly-skilled manufacturing, engineering and design sector employees through the addition of variable height working and technologies to remove repetitive manual activities. 
Defence Minister Jeremy Quin said:
I have seen first-hand the innovative work conducted by Thales at the Templecombe site and I am delighted by this expansion – which provides a modern working environment for over 125 highly skilled employees.

Work at the site will help ensure defence continues to stay ahead of our naval adversaries through pioneering sonar technologies and will support skilled employment across the South West for decades to come.
Ian Booth, CEO SDA said:
The expansion of the site at Templecombe is an exciting step forward in the SDA's continued successful collaboration with Thales. These developments will bring exciting opportunities for innovation in our joint work to develop enhanced sonar technologies to keep Royal Navy submarines at the cutting edge of capability. I look forward to our continued working together as part of the UK submarine programme.
Alex Cresswell CEO and Chairman of Thales in the UK said:
Following significant successes for our underwater systems business and here at Templecombe, Thales has upgraded our site to ensure operational competitiveness and to allow us to continue to deliver world leading products from the South West long into the future.

This new facility ensures that we can support our customers' future ambitions and provide a modern working environment for our growing team of experts.
Image (top) UK MOD © Crown copyright 2021