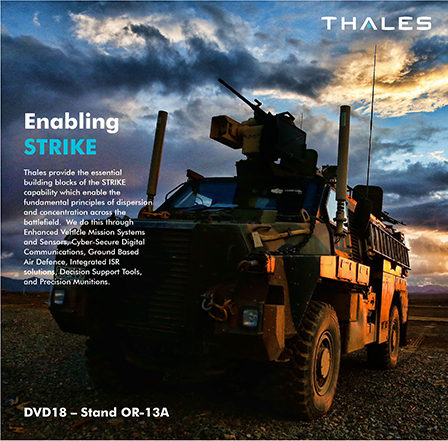 This year at DVD2018, Thales will demonstrate how we help the     UK Ministry of Defence (MOD) and other militaries around the world in enabling their STRIKE capability. At this year's event the UK MOD will be exploring innovation today and tomorrow by exploiting current capabilities more creatively, and identifying novel solutions to enable their Conceptual Force Land 2035.  Their particular areas of interest are:
The Army Strike concept. 
Specialised Infantry Group.
Reducing Logistic Need (RLN).
DEEP operations.
Command, Control, Communications, Computers, and Intelligence (C4I) systems.
In answer to the UK MoD's requirements, Thales will demonstrate at DVD2018 how we provide the essential building blocks of the STRIKE capability, which enable the fundamental principles of dispersion and concentration across the battlefield. We will illustrate this through enhanced vehicle mission systems and sensors, cyber-secure digital communications, ground based air defence, integrated ISR (intelligence, surveillance and reconnaissance) solutions, decision support tools, and precision munitions.
On display will be:
Ground based air defence
Thales provides comprehensive close support air defence solutions to protect manoeuvre formations and deliver operational advantage by detecting, tracking, identifying and defeating the full spectrum of air-enabled threats, throughout all phases of a STRIKE brigade operation. Seamlessly integrating with the appropriate BMC4I network, Thales GBAD capabilities utilise a modular lightweight weapons family of missiles to mitigate air threats. Force protection is further enhanced through the capacity to integrate additional kinetic and non-kinetic effectors and the ability of the lightweight multirole missile (LMM) to engage, lethally, enemy ground threats.
Precision munitions
In conflicts which are congested, contested, cluttered, connected, and constrained precision counts, Thales provide a wide range of precision munitions solutions from complex fuses to tactical precision strike and intelligent area denial capabilities. Combined with superior decision support solutions, Thales ensures that the STRIKE capability is accurate, first time.
C6I
Thales believes that we are now in a digital battlefield directed by C6I; command, control, communications, computers, cyber, cloud, and intelligence.  Collaborative combat lies at the heart of mission success and in a world where everything on the battlefield is producing data, Thales ensures that it is shared, available and uncorrupted across the full spectrum of users.
Intelligence, surveillance and reconnaissance 
Understanding is key to mastering decisive moments. Having accurate and timely information to hand means that our customers can act quicker. Utilising cutting-edge imagery technology combined with artificial intelligence (AI) applications, Thales ensures that we turn ever increasing amounts of data into actionable intelligence.
Vehicle mission system integration
Thales sensors can detect threats of all kinds and see through the confusion of the battlefield, bringing ever greater effect to the ground elements of STRIKE. Innovation and technology mean that the vehicle's sensors are now integrated into a shared data battle space where autonomy and AI provide magnitude improvements on decision making and situational awareness.
For more information on DVD2018, visit the website.