Thales High G team step up to make space travel safer for tourists
Thales staff at the UK's only High G testing facility are stepping up in more ways than one to help make space tourism a safe experience for everyone.
Sub-orbital rockets could soon be carrying fee-paying tourists into space for the trip of a lifetime. But can a retired couple from Croydon be expected to cope with some of the same G-forces experienced by intensively trained fighter pilots experience on a combat mission?
That is the question that a team from Thales Training and Simulation is helping researchers from King's College London to answer. 
High G training and testing partnership
In August, testing began on 24 volunteers, varying in age from their 20s to 60s, at the RAF's High-G Training and Testing Facility at their training college at Cranwell, Lincolnshire.
The system's high-speed centrifuge can accelerate the occupant of a gondola up to 9G in one second and is more typically used to help fighter pilots to manage the effects of G-force.
The centrifuge can produce G-forces in all 3 spatial axes: vertical (±Gz) typically experienced by pilots, which forces blood to or from the brain; lateral (±Gy) felt by a Formula 1 driver rounding a bend; and longitudinal (±Gx) caused by rapid acceleration and deceleration.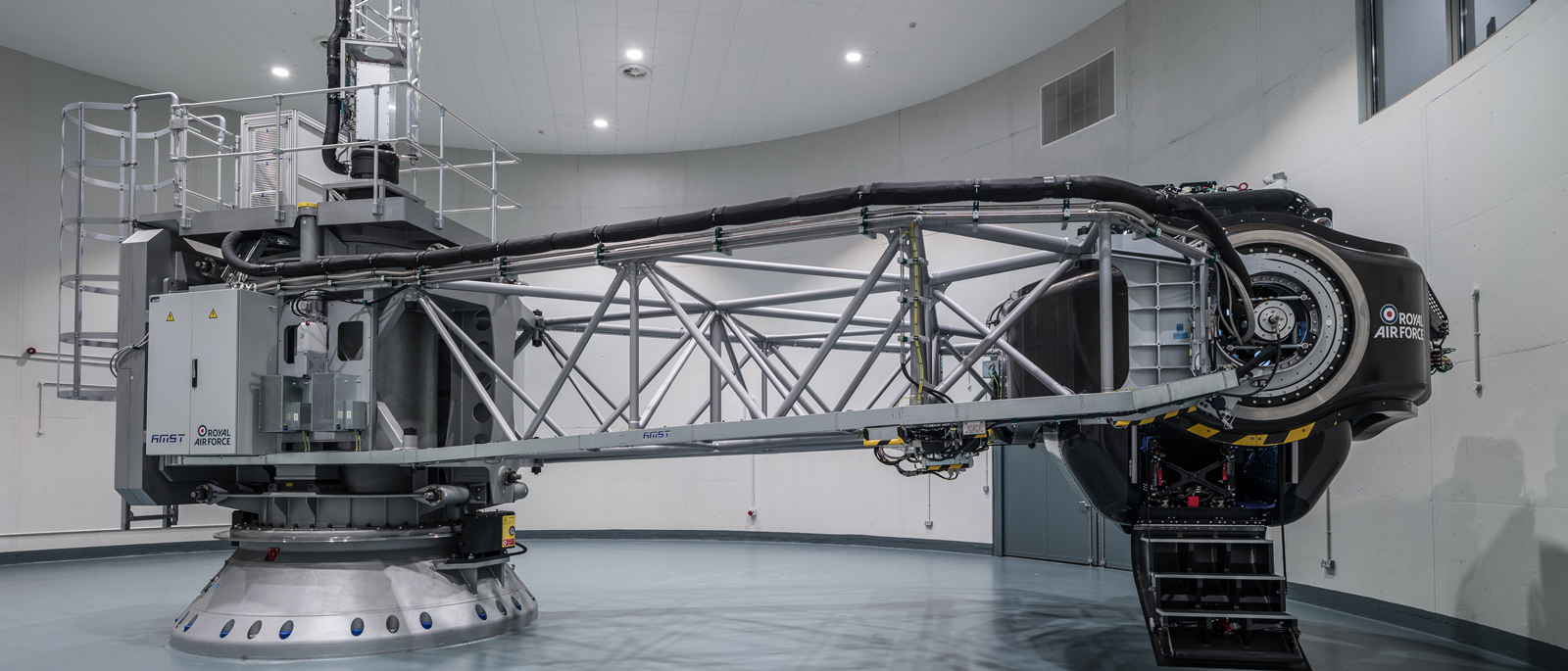 "Like an elephant standing on your chest!"
Working with Austrian firm AMST, Thales in the UK was instrumental in delivering the £44 million project which opened in February 2019.
David Bolsover from Thales in the UK leads the team responsible for running and maintaining the facility. He also put his faith in the system by stepping up to become one of the test guineapigs, experiencing the equivalent of the launch profile of a Virgin Galactic spacecraft.
"Experiencing plus 6Gx, simulating a Virgin Galactic rocket boost, is like having an elephant standing on your chest whilst trying to breathe," recollected David. 
"After that, you experience the craft pulling up to climb to space, at the same time as plus 4 to 5Gz. Having experienced Gz both in the centrifuge and in various aircraft, the Gz and Gx profile in this test was a very novel experience, even for me."
If space becomes the new holiday frontier, any fee-paying member of the public could become astronauts. The Civil Aviation Authority will have responsibility to write the regulations on the suitability of UK passenger but currently data is limited on the physiological effects of sub-orbital flight to base fitness standards on.
That's why the CAA commissioned KCL to produce a report on how the high-G acceleration experienced during suborbital spaceflight affects the human body, how this might vary with age and how it could impact on both safety and enjoyment.
"Anyone paying £250k for a space flight doesn't want to spend any part of their trip unconscious!" explained David.
Pilots may encounter plus 9G on the test facility while volunteers will be tested from G0, weightlessness, to around 4-5Gz. Volunteers are wired up to monitor blood pressure and respiratory rates and volumes. The tests are also being run using normal and reduced oxygen levels, simulating different altitudes to investigate the effects of reduced oxygenation on passengers.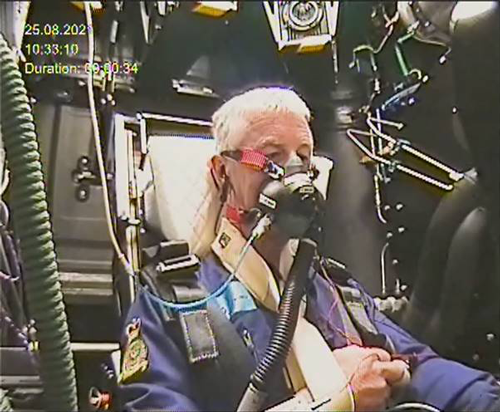 Boldly going into a new domain
The Royal Air Force intent is for the capability to be a national, and potentially international, centre of aviation and space excellence. RAFCAM has a unique concentration of Aviation and Space medicine consultants able to support the national regulator, HMG and industry, enabled through the partnership with Thales.
Daz Rawlins, Managing Director Thales Training and Simulation for Thales in the UK said: "We're delighted that Thales Training and Simulation is able to support RAFCAM, KCL and the CAA in this project and our collaboration has been very close and smooth-running.
"These tests also show that we're about more than building and running flight simulators. As new domains open up, we stay determined that Thales will innovate and adapt our solutions to meet new technology challenges."
Ensuring safety
In order to ensure safety of the trial and to comply with MOD Research Ethics Committee requirements, the research was based on professional and non-professional pilots but, if successful, future studies may move to include the general public.
Once everyone has been put through their High G paces, KCL will present its findings and recommendations to the CAA later this year.