Thales share their expertise and train The National Defence University
Honouring our commitments even in difficult times
In February, Thales was delighted to have been approached by the National Defence University (NDU) in Washington to host and deliver two learning modules on C4ISR (Unmanned Air Systems architecture) and Electronic Warfare (CEMA) to 15 NDU students.
The National Defence University, America's leading university for future military leaders (domestic and allies) represents a growing need for closer ties between America's military services and the industries that arm them, and particularly among military centres of higher learning and research.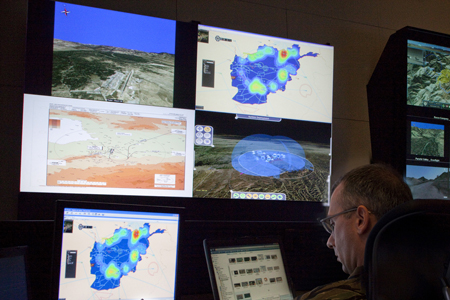 Our heritage and expertise in Unmanned Air Systems and Electronic Warfare meant Thales; thanks to our experts is a well-placed industry leader to share its expertise, knowledge and lessons learned across the subjects which will form part of the NDU student's curriculum.
With the far- reaching impact of COVID-19, the team involved were determined to honour our commitments and ensure the event could still go ahead even under these difficult circumstances. Rapidly re-thinking and adapting in order to ensure the continuation of cross-collaboration and personally committing their own time outside of work, the team not only researched and tested new technology but created virtual learning modules that could be delivered remotely.
Sean Storey, Strategy Director at Thales in the UK said 'it's quite an honour to have been approached by NDU in the first place, and with the current COVID-19 situation we were concerned the opportunity would be jeopardised. Thanks to the collaboration and appetite from both NDU and Thales to make sure this could still go ahead, the individuals involved went above and beyond in order to pull together and host virtual learning applicable to the students. This is a first for us however I think this approach will be norm in the near future.'
Colonel Karen Bingham, C4ISR Industry Study Lead at NDU said: 'Thales was an integral part of our studies this semester as we focused on assessing the health and examining emerging technologies of the C4ISR industry. The students studied Thales' business model and its emerging technologies, as Thales is a leader in both areas with unique partnerships and end to end C4ISR solutions. The opportunity to engage with Thales experts provided an invaluable discussion on the defence industrial base and innovation ecosystems of both nations.  Many thanks to Team Thales for adjusting to our virtual classroom environment and delivering a first class engagement.'
The impact of COVID-19 has seen many organisations such as Thales having to agilely adapt standard working practices in order to overcome physical barriers and constraints however; it has also accelerated opportunities for us to develop low-cost, innovative new practices that can be applied to future ways of working with our customers in order to help secure our future growth.