Thales in the UK to continue 100% High G service after contract extended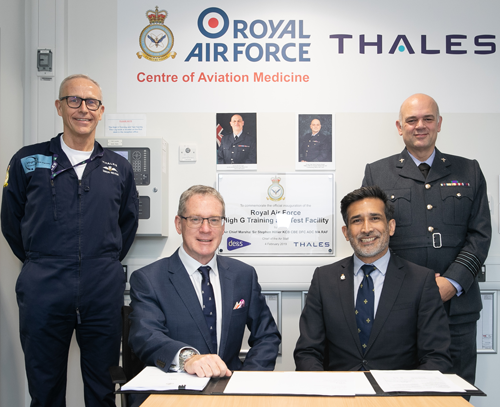 A 100% performance delivery record over the past three years, even during the Covid-19 pandemic, contributed to the MOD signing a three-year contract extension for Thales to continue supporting the Royal Air Force High G Test and Training facility.
At a ceremony on 30 November, Managing Director of Thales Training Solutions (TS) Daz Rawlins, and Stuart Lafferty, team leader for the Ministry of Defence Flight Simulation and Synthetic Training (FsAST) Project, met at the High G facility at RAF Cranwell to sign the contract for Thales training, engineering and administrative support until December 2024.
Also at the ceremony were the Officer Commanding the RAF Centre of Aviation Medicine, Group Commander Gwynne Harper, and Simon Meade, who recently took over from David Bolsover as Thales's High G Training Support Manager.
Although the original intention was to put the contract to competitive tender, the Thales team's performance over the past three years led to a change of mind at the MOD and the award of a non-competitive, single source service contract, which the MOD has the option to increase to four years.
David Bolsover, who has been involved with the project from build, said: "It's great that we're performing so well the customer wants us to carry on. The feedback from RAF CAM is that the service we provide is gold standard and they want the same service going forward."
The £44m High G facility was completed in 2018 by Thales in the UK working with Austrian firm AMST and is used by Royal Navy and Royal Air Force pilots to simulate flight in aircraft including Hawk T2, Typhoon and F-35B Lightning. Pilots sitting in a realistic cockpit can learn to cope with up to 9G of force while using accurately recreated controls to carry out synthetic operations.
Whole Force teamwork in the face of a pandemic
Over the past three years, David has led a team of 10; three pilot instructors, four engineers, two survival equipment fitters and an administrator, effectively integrating with Service personnel.
"We're very much part of the RAF's Whole Force Concept," said David. You can't tell the difference between Thales staff and RAF. We have a high level of credibility when we talk with pilots and we're seen as part of the team, which I think is the future."
That teamwork was put to the test during the lockdown period when social distancing and working remotely were being encouraged. Maintaining 100% training delivery throughout was critical for the continuous defence of UK airspace by the Typhoon squadrons at Quick Reaction Alert.
"We needed to provide a flow of trained pilots into these squadrons," said David, "So we had to keep going every day with no break, despite the lockdown. We carried out a risk assessment and minimised the number of staff on site, but five or six people had to be in every day to carry on training."
There was no way to avoid staff contact with pilots, as they fastened pilots into the cockpit gondola at the end of a centrifuge arm, so special PPE was designed and new procedures developed to minimise contact.
Change with continuity
David recently handed the manager's role to Simon: "Simon has been my deputy since the start of the project, so he's best placed to take on the role as I step aside."
Living near Cranwell, he hopes to devote more time to recreational flying and his vintage motorbikes and car.
However, he remains at the facility as a pilot instructor and expects to be busy with some outstanding projects, including recruiting a new instructor. He is also working on a bid to support the planned move by RAF CAM from RAF Henlow to a new facility at Cranwell. A bids shortlist will be announced in February.