Thales in the UK says farewell to the Tornado
Thales supported the Tornado since its first take-off in 1979
On the 14th of March, RAF Tornado fleet will have its final parade, celebrating its long service protecting the country. 
Thales has supported the RAF's Tornado force since the aircraft was first delivered in 1979. Originally named the Tornado GR1, the aircraft's first use in live operations was during the Gulf War in 1991 when 60 Tornado GR1s were deployed from bases in Saudi Arabia and Bahrain. The aircraft were upgraded to the GR4 model, which has been used ever since over the skies of Kosovo, Afghanistan, Iraq and Syria.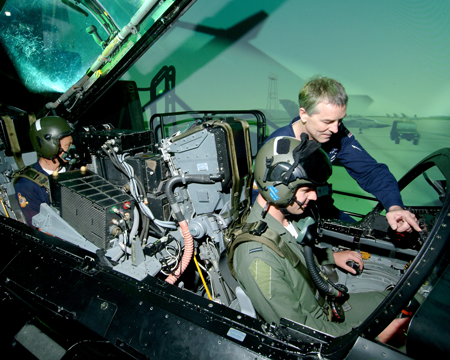 For the duration of its 40 years of operational service, Thales provided the Tornado GR4 training capability at RAF Lossiemouth and Marham. This included a provision of the buildings infrastructure, engineers, instructors, administration staff, classroom facilities, desktop training systems and three full-flight simulators.
As part of the RAF's 'Whole Force', Thales has also provided over 38,000 simulator sorties, accumulated over 57,000 simulator flying hours, trained over 600 pilots, supported major training exercises and prepared thousands of aircrew for deployment. The Thales team has delivered over 75 simulator updates to keep pace with technology advancements and remain current with Tornado aircraft developments and operational requirements.
The Tornado will be officially retired from service at the end of March and, going forward, will be used for training purposes across the UK. RAF Typhoon jets will form the backbone of the UK's combat air fleet, alongside the recently introduced new fleet of F-35 Lightning jets over the coming years.
Thales is also a key part of the training and simulation solutions for the Voyager (AirTanker consortium), Tucano trainer and the A400M Atlas.
Thales' simulation and training support for the RAF has been integral to their 100 year relationship, and is set to continue well into the future.
Farewell Tornado, hello High-G.