Thales Wins Innovation of the Year at Rail Business Awards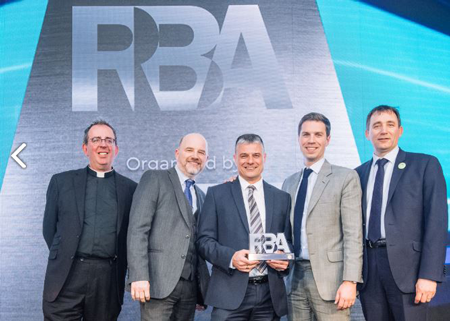 Thales has been awarded 'Innovation of the Year' for Robust Train Positioning technology at the Rail Business Awards. The awards were hosted at the Royal Lancaster Hotel in London on February 27. The innovative technology was developed by Thales and its trial and application was by Great Western Railway (GWR).
For railway operators, the safety of their employees, passengers and anyone in contact with their environment is crucial. Robust Train Positioning technology implements an algorithm that uses information from sensors on a train to accurately calculate its position. It has numerous potential applications and can offer multiple benefits to both customers and passengers.
In 2019, Thales secured a grant from Innovate UK to implement this technology in a first-of-a-kind user worked crossing application, called 'Advisory System for SIGNallers' or 'ASSIGN' for short. ASSIGN brings together Robust Train Positioning technology with Incremental Solution's Sentinel and Rapport systems to create a new application that can provide train time of arrival information at user worked crossings to signallers. This system aims to allow signallers to quickly validate the decisions that they make and thus give greater resilience to the infrastructure they control.
Robust Train Positioning is also being used as part of the Thales Train Protection & Warning System Continuous Supervision (TPWS CS) product to give customers better train protection, as well as capacity benefits. This integration of the technology is an example of using cutting edge solutions to give legacy products a new lease of life.
It is fantastic that the industry recognises the potential that this technology has and winning this award is hopefully just the beginning of the journey for Thales Robust Train Positioning.
Tank Porteous, Business Development Manager, Thales in the UK
The rail business awards are an annual celebration of excellence in the industry. The 2020 awards were the 22nd time that the ceremony had been held and the recognition of Thales's solution demonstrates the successful commercialisation of Thales research. When commenting on the award, the Rail Business Awards judges said "we felt this low-cost on-board positioning system was an impressive innovation which deserves encouragement, as it offers significant long term potential for delivering safety and performance benefits".