Volunteering for the National Shipbuilding Taskforce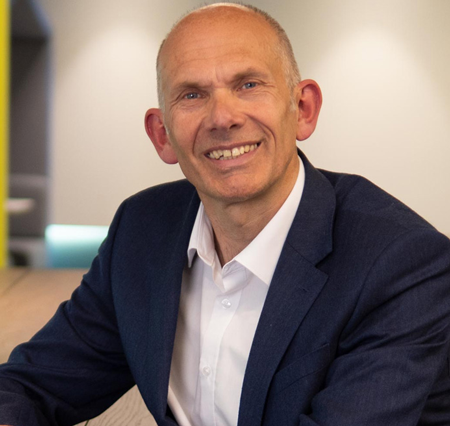 With more than 25 years' experience in human resources within the naval and cyber industries, Matthew Guy, Human Resources Director at Thales UK, was a perfect candidate to volunteer for the UK Shipbuilding Skills Taskforce (UKSST). 
The Taskforce, which met for the first time in July 2022, will work with the government, the shipbuilding industry, academia, trade unions and training providers across all four nations to identify and build a picture of the industry's skills needs and provide solutions to skills shortages in the sector. The initiative was established in the National Shipbuilding Strategy Refresh, which set a bold ambition of delivering more than 150 new naval and civil vessels for the UK Government and Devolved Administrations over the next 30 years. 
Here, Matthew shares why he decided to volunteer to be part of the Taskforce, the value having an optimally skilled and diverse workforce will bring to the UK, and how his own experience will help him to succeed in his position. 
You have a long-standing passion for the naval industry. How has this influenced your decision to become involved in the National Shipbuilding Skills Taskforce?  
There are several reasons why I volunteered to become a member of the Taskforce. Firstly, I'm a maritime person at heart with a love for all things seafaring. From aircraft carriers to luxury yachts, vessels of all shapes and sizes have always captured my interest. This passion has been influenced due to my early experiences of UK and overseas dockyards. Growing up my father, who worked for the MoD and linked to the Royal Navy, meant I spent a lot of time close to shipyards in Plymouth and Gibraltar .  
Throughout my career in human resources, I have also played an active role identifying, developing and sustaining capability for surface ships such as the Aircraft Carrier Alliance, submarines and naval communications. 
I now have a professional and personal desire to pay back to this valuable sector and the communities that support it. The UKSST represents a prime opportunity to safeguard our maritime industry, develop skills and create opportunities for social good. 
I'm delighted that Thales have supported my application to support this national interest through their volunteering scheme, which allows employees to dedicate 24 hours of their time each year to supporting local communities. 
I'm keen to pay back to the industry that has supported me throughout my career and to now inspire future generations.
What experience and skills will you bring to support the Taskforce?
For over 25 years I have worked in human resources for the naval and cyber industries. During this time, I spent nearly 10 years working on the Aircraft Carrier Alliance as Head of HR, where I helped to shape the resource strategy for the Aircraft Carrier Alliance. It was a national level challenge that offered the opportunity to work with a wide range of stakeholders across SMEs, industry, government and academia.
I also worked on behalf of Thales, with the National Cyber Security Centre on a project called "Cyber First", which aimed to develop the next generation cyber security professionals. A key role of the UKSST is to identify  competencies required for the future, particularly those related to new and emerging technologies, and so the skills and experience developed from this latter activity will help to realise the ambitions of the Taskforce. 
Essentially, I'm here to present my views, sharing industry insight and naval experience to support the development of shipbuilding skills, whilst finding ways to inspire future and current generations to pursue a career in the maritime sector. This aligns well with Thales' own ambition, to support and sustain the maritime sector.  
What are the next steps for the Taskforce? 
The Taskforce is made up of 20 members, led by Honorary Captain Dr Paul Little, Principal and Chief Executive of City of Glasgow College, with representation from various Government departments, including the Department for Education and the National Shipbuilding Office, amongst several others. 
Working closely with the Ministry of Defence and the Department for Transport, the Taskforce has been established to develop a future focus for the next 18 months, to ensure the UK's shipbuilding industry has a supply of capability, bolstered by emerging technologies, for the long-term. 
To make this a reality, collaboration across industry partners, employers, the Government, training providers and the trade unions must effortlessly blend. I believe it will result in a powerful force for good, for communities, and for the people of the UK. 
One of the outcomes is to prepare a future focus skills strategy by spring 2023. Beyond that, it is very much to develop the skills needed for the next 30 years. Inspiring an active career interest within the maritime sector to strengthen and safeguard the UK's prosperity. 
We are continually encouraging diverse representation, as some might believe that historically shipbuilding is a predominantly male-dominated activity - it certainly shouldn't be. Our doors are open for all. Everything we do encapsulates the importance of diversity. 
Volunteering has become an essential element. Thales supports our employees to pay back into the community, which as a result, has enabled me to do exactly that.