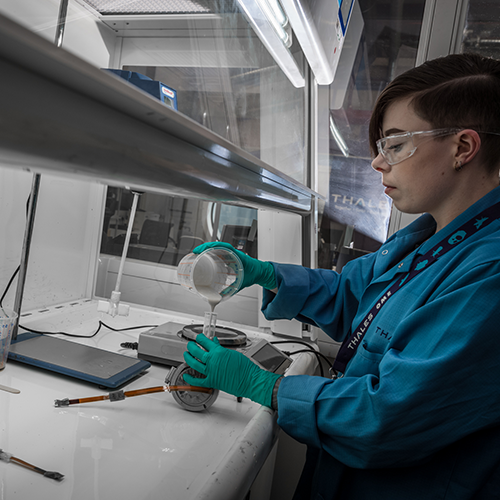 Sophie Moorewood
Sophie Moorewood
Electrical Manufacturing Technician
Glasgow, Thales Land, Air and Defence
After being placed on secondment in Glasgow, Electrical Manufacturing Technician Sophie loved the work so much that she decided to relocate to Scotland. Sophie tells us what inspired her to join Thales, her career highlights over the past five years and why she thinks diversity is crucial to creating a thriving workplace.
I have been with Thales now for almost five years and am pleasantly surprised by my progress, both vocationally and academically. Thales has provided me with several training courses, such as an NVQ3 and I am now in further education studying manufacturing engineering. I can also see myself progressing both my career and education even more in the future.
I am currently on secondment as a manufacturing engineer based at the Glasgow site. My role includes influencing and implementing production processes, using problem solving skills to minimise production downtime and implementing continuous improvement initiatives. I am also the first point of contact for shop floor problems.
I feel appropriately challenged in this position and after my secondment has finished I will apply to be a Manufacturing Engineer.
Other highlights of working for Thales include job mobility and education. I have been given opportunities to move around the business and really flex my role. This includes working in Templecombe, Reading and in Glasgow, where I loved the work so much that I decided to relocate to Scotland and become a permanent member of the team.
Moving has enabled me to benefit from receiving further education and the enjoyment of living in a big city.
Thales talking points – diversity and equality
Diversity is the most important part of the workplace, especially in engineering. Engineering requires problem-solving, creative thinking and experience. Without diversity, we would not produce such a variety of working solutions.
It's 2019 and lots of things are changing in society for the better - one of which is gender equality. I consider everyone equal and believe that anyone can be what they want to be if they feel passionate about it. For me, equality means that anyone can apply for whichever job they want. I would advise other women to not feel intimidated by traditional job roles.