Key data
2.5000 millions investment in I+D
16.500 patterns in 2016
Five laboratories within universities in France, United Kingdom, The Netherlands, Singapur and Canada
More than 30 collaborative agreements with universities and public research institutes in Europe, Asia and USA.
The potential to achieve innovation is everywhere
Innovation is something that break with the past and create value added, under client's judgment, in term of processes, organized models, technical solutions or the way that a company drives business. The innovation always needs to be available in the market; a company cannot just simple decide that wants to be innovative, but it has to be predictable that way by their clients and competitors.
A lot of the business activities in Thales are highly technological, which transform the innovation in a strategic priority and in the group force that encourage the development in a long term.
Open innovation
Thales teams worldwide feel encourage by the search of innovation
Thales Central infrastructures of Research & Technology (TRT) apply for an innovation open model, designed to maximize the interaction with the academic research community, Thales operator's unities and other technological providers.
The development and evolution environment of concepts offers new opportunities to work with clients in real scenarios and develop solutions to solve the necessities.
Thales research programs help operators' unities to divide group products and solutions and obtain a competitive advantage.
Thales efficiency is supported in it 90% in the decentralization in an operative level, with and strength coordination around few strategic topics. I+D Thales teams work in more than 80 places in the main countries of intervention in the group.
Innovation in Spain
Create today the products of tomorrow, create value for our clients, and allow efficiency team work, passion for research: key figures of the innovation in Thales. Open innovation environment and a common creativity culture that the group contributes to make the world safer and build the business principles of Thales.
 
A long term vision of innovation
Our legacy: a century of innovation (1893-2013)
The innovative spirit that links every group always has become part of the history and Thales culture. Since 1893, technological progress has made Thales history, allowing the group to be continuously in the forefront. Since becoming Pioneer in radio and radar technologies, now Thales covers all the electromagnetic field. The group is a recognized expert in everything in relation with basic physic of electronic components to the integration of advanced products in "systems of systems". This positioning is key for Thales to develop new solutions and keep governments, citizen's security, protect people and institutions and increase safety and reliability of land and air transport.
Innovation as a motor of growth
Progress, innovation and performance are the three keys of the growing strategy and the background to build solutions that need our clients. Therefore, Innovation perform an essential role in Thales group strategy, not only because encourage progress planning new ideas, also because increase business efficiency taking in advanced all of the opportunities to create a competitive advantage. Innovation is essential in Thales strategy. Encourage our growth and improves our efficiency at the same time. Innovation is a motor of growth because allow us to create new products that will be successful in the future. As a basic principle of our product policy, innovation and efficiency are interconnected and interdependent.
Simplify complexity: Thales researchers have innovation in their ADN
Successful innovation for Thales is based in know perfectly client's needs, in creativity power and imagination and the capability to transform a technological progress in a practice applicant. Thales focused to the innovation covers all the product life cycle or new service, from the research to the develop, from the initial commercialization to the manufacture, from the installation to the operation: Thales focused through innovation covers all life cycle of a product or system to maximize the quality of a service and the satisfaction of the client.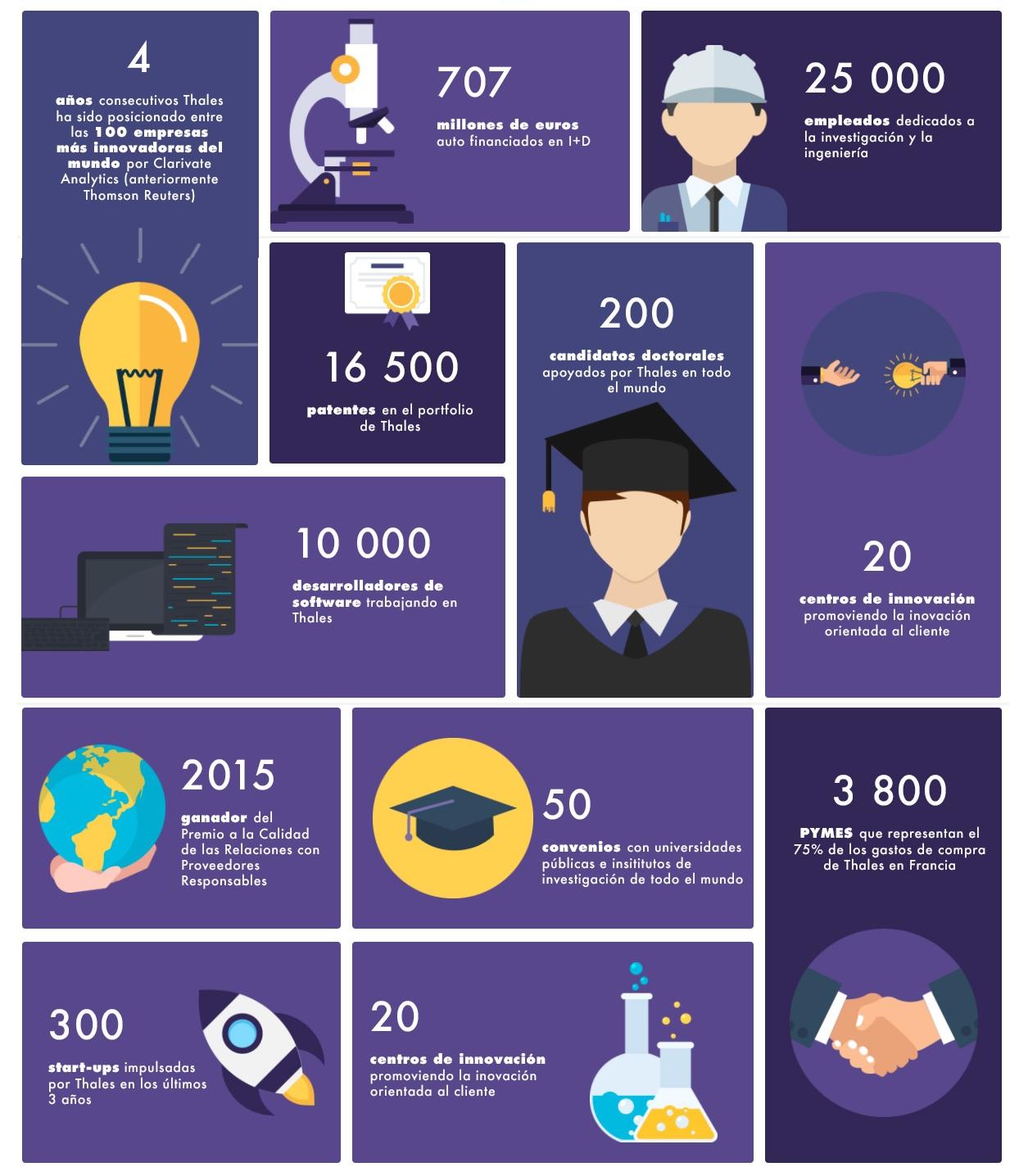 Digital technology, an innovation booster
Key players in electronics, cybernetics and information technology are constantly on the lookout for new technologies that have potential to drive growth.
Aware that innovation is key to boosting efficiency, Thales has significantly increased its business by capitalising on three major breakthroughs: optimised management of Big Data, increased use of autonomous systems, and virtual tools.
Big Data: security and profitability
Big Data is experiencing exponential growth. Today, Thales not only offers to secure its customers' data by ensuring the inviolability of the cloud in which it is generally stored, it also promises to improve profitability by analysing and processing data in real-time or by batch. By filtering relevant information from companies' digital systems and then recycling this to create new functions or develop existing missions, Thales can help companies achieve substantial savings and/or significantly increase their turnover.
This is certainly the case for the predictive maintenance sector. By processing the technical data recorded on airliners' systems, it is possible to anticipate potential defects, which saves time when it comes to maintenance thus increasing the number of rotations and improving safety.
Similarly, Thales offers to help airlines determine each user's In Flight Entertainment (IFE) preferences based on in-cabin data to increase customer loyalty through a customised service. It can also determine how to deal with a passenger whose flight is delayed, the type of compensation they might expect in the event of cancellation, etc.
 
Autonomy and the human factor
The use of autonomous systems is also a major catalyst for growth. As the European leader in tactical drone systems, Thales is constantly innovating. Developing software that will eventually enable airborne drones to work together in tactical swarms, the Group designs machines that will operate in various environments and which all rely on a host of technological innovations. One such example is AUSS (Autonomous Underwater & Surface System), a submarine drone that is expected to revolutionise naval intelligence thanks to its discrete permanent monitoring. There is also the Stratobus airship, which moves through the stratosphere; this has significant potential in terms of setting up communication networks in areas of digital divide, as well as observing the earth.
Combined with artificial intelligence (AI) mechanisms, such as machine-learning algorithms, these autonomous tools will be capable of further increasing their performance and efficiency. Remaining at the service of humanity: While total autonomy is technically feasible for some missions, it is not acceptable to Thales customers. People must always be kept "in the loop" and remain the ultimate decision-makers.
Immersive Worlds
The use of virtual tools also allows the creation of many new activities such as simulation. This is already widely used for training civilian and military pilots with Thales being one of the key players in this sector. It has many civilian applications too.
The same applies to the use of augmented virtuality. In this field, defence-oriented technologies, such as helmet-mounted displays, can be used in many civilian professions. Because Thales has developed electro-optical instruments that leave no room for error for Mach 2 use, it is also capable of making augmented reality glasses, which receive and display information sent remotely to technicians carrying out maintenance on complex systems far from any external support solutions e.g. in the open sea or deserts.  
Virtual tools, autonomous machines and optimised use of Big Data: Thales is at the forefront of innovation whether working alone or part of the wider entrepreneurial eco-system rich in resources.