Thales is a leading global supplier of secure end-to-end satellite communication (satcom) solutions based on civilian and military satellites to meet the requirements of land, air and naval forces.
Complementing existing secure military radio communication systems, satcom is an important component of a military force's ability to access long-distance voice and data communication services anywhere in the theatre of operations.
It is crucial to be able to guarantee that these communication services are secure. They also need to offer high availability as well as the ability to send and receive high-definition photos, videos, maps and other data.
The Thales offering is built around a mature, high-performance core technology called System 21, a unique multi-waveform modem available for all types of military platforms (land, air, naval). It is versatile, scalable and easy to use, supports secure voice and high-speed data transmissions and guarantees network security. It has already been selected by several countries and for a number of NATO missions.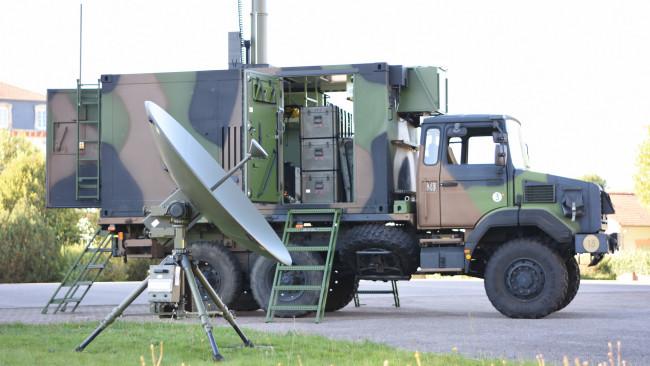 Thales provides the full range of ground-based systems required for military satcom programmes. The system can be delivered on a turnkey basis, with Thales ensuring the transfer of skills to the customer's personnel as required.
Thales's key credentials on military satcom programmes include:  
Prime contractor and responsible for implementation of France's Syracuse III* ground segment and networks.
Operation and supervision of satellite links for NATO forces in Afghanistan (ISAF**).
Manufacture of satcom terminals to provide critical high-data-rate secure communications for Yahsat in the United Arab Emirates.
As the armed forces pursue their digital transformation and transition to network-centric operations, these successful programmes have consolidated Thales's position as a prime contractor for large-scale joint forces communication systems, opening up new opportunities in European and NATO markets.
*France's Syracuse III system (SYstème de RAdioCommunications Utilisant un SatellitE / satellite-based radiocommunication system) is a series of satellites that enables French forces stationed in France or deployed overseas to access best-in-class satellite telecommunications services offering excellent performance in terms of throughput and anti-jam protection..
**ISAF (International Security Assistance Force) is the military component of coalition operations conducted in Afghanistan under NATO command since 2001.