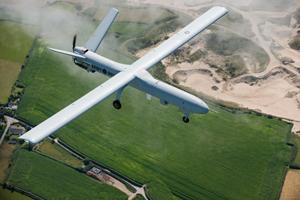 ​The Watchkeeper Unmanned Aircraft System is built to the same exacting standards as manned aircraft, and is modular in design, so it can be adapted and upgraded for specific operational requirements.
​Rapid transportation and deployment
Transportable by air, land and sea in a protective, international standard container, Watchkeeper assembles and disassembles fast, and can take off and land from prepared or semi-prepared airstrips.
Robust, safe and reliable
Watchkeeper is built to CS23/STANAG 4671 airworthiness certification standards. It is operable in zero visibility, harsh weather conditions and extreme temperatures. It has a unique de-icing system that detects and eradicates any build-up of ice, keeping it fully operational.
Fully autonomous mission system, take-off and landing
The Watchkeeper system has fully autonomous mission control and Autonomous Take off and Landing System (ATOLS), which minimises operator burden, and reduces manning and training costs. Its on-board autonomous emergency logic includes lost-link and glide to pre-programmed emergency landing sites.
Future-proof, with extensive growth potential
Watchkeeper's modular design enables future growth potential to maintain pace with changing technology and threat changes. A number of packages are available that can be tailored to user requirements.