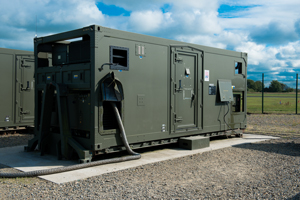 The Watchkeeper's Ground Control Station is its primary mission-planning, command and control interface, and can operate independently or as part of a C4I network. Missions are not mutually exclusive, and Watchkeeper can be dynamically re-tasked while airborne.
Watchkeeper carries the very latest optical and radar systems. Payload configurations include HD electro/optical, infrared and laser capabilities, to allow observation, recognition and transmission – and precision location accuracy – at any time of day or night, and in extreme weather conditions.
The Thales I-Master Radar performs both Synthetic Aperture Radar (SAR) in strip-map and spotlight modes, and supports high quality ground mapping. The Ground Moving Target Indicator (GMTI) can detect and track moving targets.