Best employers 2018: Thales tops the tables!
French magazine "Capital' has published this month its lists of 'Best employers 2018' in France in several different categories with one constant: Thales is always very well placed!
In this exclusive list developed with the Statista Institute and integrating surveys of 500 French companies, Thales takes first place in three categories: creativity, balance between work and private life, and continuous learning.
The Group is also placed in the top 5 for working conditions (2nd), benevolence (3rd) and career progression (5th).
To establish a ranking of champion employers, Capital launched a major online survey of a panel of 20,000 people working in companies with more than 500 employees in France, and investigated the Human Resources policies of hundreds of companies across thirty criteria grouped around seven themes.
"All of our teams are very proud of these positive results, in constant progression from one year to the next," declared David Tournadre, SVP Human Resources. "The battle for talent is a reality, and in order to become ever more attractive, we have to make Thales a company where everybody can be a driving creative force, and take these initiatives onboard to continuously improve.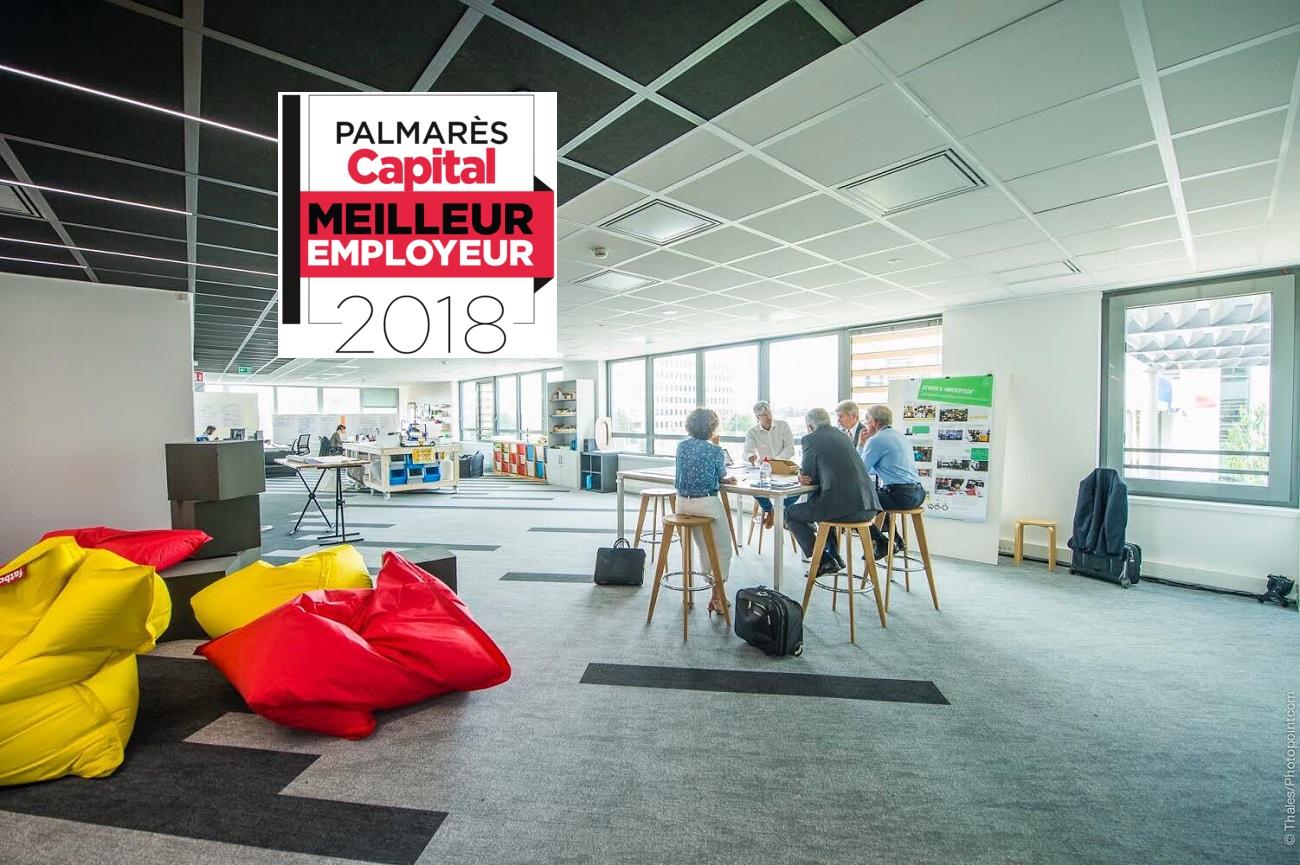 Young talents are very responsive to company values, both in their mission, and in the way the company manages quality of life at work and its capacity to develop the skills of every individual.
Being attractive today as a technological leader means not only proposing highly technical missions in exciting fields, but also investing in collaborative and connected workplaces, and developing a culture where everyone can simply be him or herself.
With this ranking to inspire us, we will continue our efforts to make Thales an organisation that is even more inclusive and open to the world."
A "Top Employer" in Spain too!
Thales in Spain has received the "Top Employers 2018" certification following an in-depth research survey conducted by the Top Employers Institute. The certification underlines Thales's position as one of the best companies to work for in the country.
The independently analysed HR Best Practices Survey assesses 600 practices covering nine different topics: Talent Strategy, Workforce Planning, On-boarding, Learning and Development, Performance Management, Compensation and Benefits, Career and Succession Management, Leadership Development and Culture.