Thales organises its first #ThalesMediaDays on the theme of cybersecurity
The first #ThalesMediaDays, organised April 11, demonstrated the impact cybersecurity has on all of our daily lives, and showcased our pragmatic and robust solutions to this technological and societal challenge.

Challenges and solutions at #ThalesMediaDays
This event, organised for French and international media at the Thales Learning Hub in Vélizy near Paris on April 11, was the occasion to underline the position of the Group in the cybersecurity domain. With an investment of over a billion euros over the last three years in the four key digital technologies (Connectivity, Big Data, Artificial Intelligence and Cybersecurity), Thales also now confirms its role as a digital innovation lab and the world leader in cybersecurity.
The presentations by Marc Darmon, EVP, Secure Communications and Information Systems, Guillaume Poupard, the President of ANSSI (the National Cybersecurity Agency of France) as well as the conclusion by Patrice Caine, Thales Chairman & CEO, gave participants a very clear picture of the issues at stake.
 


If digital transformation is bringing opportunities for growth, new revenue streams, new services and new business models in almost every industry, everywhere, a more connected world is also one that becomes more vulnerable to attacks.

Our clients have big ambitions and operate mission critical systems, where safety and security have to be assured at the highest levels, in real time, be it in air traffic management, train signaling, satellite communications or air defence systems, where human life is often at stake. That's why cybersecurity is the sine qua non condition of our digital technologies. As the world becomes more connected, it also becomes more vulnerable."
Patrice Caine, Chairman & CEO, Thales
Experts from Thales and other companies and organisations discussed cyber training, the detection of attacks in real time, cloud encryption and data protection, protecting airports, key developments in the automative industry, and cybersecuring air traffic management, as well as the theoretical hacking of connected aircraft, satellites and autonomous cars, the role played by Big Data and Artificial Intelligence in cybersecurity, the cyber protection of armies and even how we can – and must - read hackers' minds.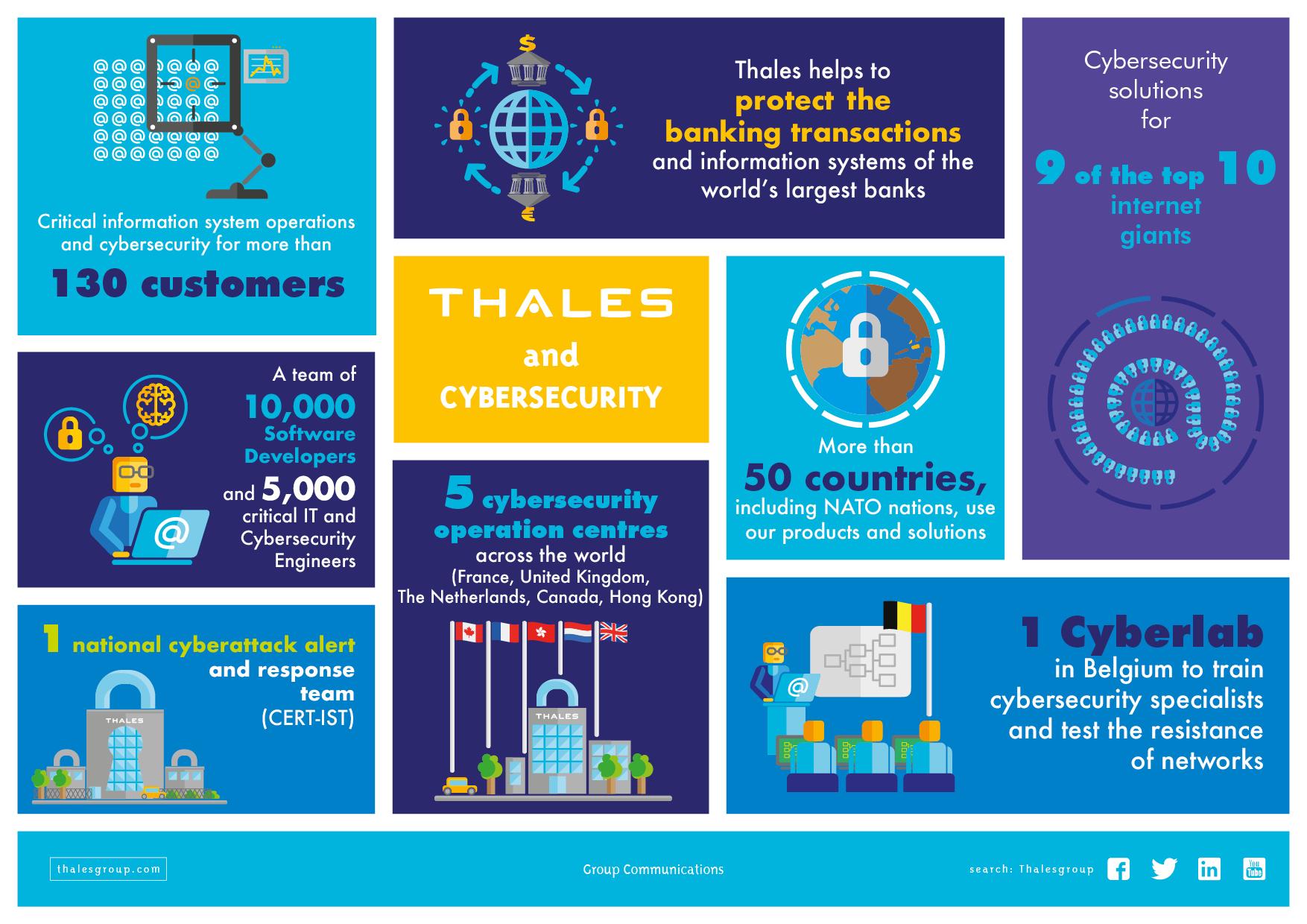 In addition to these presentations and discussions, Thales also made a number of announcements that highlighted the Group's commitment to helping clients develop and secure their digital technologies.
This summer, Thales will open a cybersecurity hub in Dubai to serve as a centre of excellence for Cyber Consulting services in the Middle East.
Following the creation of the Digital Factory in Europe (Paris) and CortAIx, an Artificial Intelligence hub in in North America (Montreal), Thales will open a third digital factory in Asia later this year.
With partner Sopra Steria, Thales will develop the first phase of the Artemis programme, a Big Data platform for the French Ministry of Defence.
The French state has signed two new contracts with Thales to help to modernise its critical information systems, manage the transition to the cloud and upgrade big data capabilities with appropriate levels of security.
The National Institute of Geographic and Forest Information (IGN) under the Ministry for an Ecological and Solidary Transition and the Ministry of Agriculture and Food will rely on Thales to migrate, secure and operate its Geoportal with 500 terabytes of data.
Thales and Gibson Dunn, a leading law firm in Europe and the US, will work together to provide holistic legal, technical and business advice for data protection to clients. 
Demonstrations
Keynote speeches by Guillaume Poupard and Marc Darmon


The conclusion by Patrice Caine


Cyber in Air Traffic Management


Cybersecured Operating Systems in the automative Industry

Cybersecurity for airports