​​​​​

When did digital tachographs come in?
Analog tachograph, the concept of logging driving activities, dates back to 1953, became compulsory in Europe for commercial vehicles from 1986.
Digital tachographs came in on 1 May 2006 when all new trucks have to be equipped with one. 
A digital tachograph records speed, distance, driving periods, breaks, some events like overspeeding, driving without the card, and fraud attempts. 
These data are mainly used to make sure drivers follow the rules on drivers' driving and resting times, ensuring companies can follow these rules and enforcers able to perform effective roadside checks.
Since then, the tachograph system is digital and based on a Public Key Infrastructure (PKI). 
It is the only European project that guarantees full interoperability within the countries of the EU, EEA, and AETR (European Agreement concerning the Work of Crews of Vehicles Engaged in International Road Transport).
Offering an exceptionally high-security level, the digital tachograph is the first cross-border interoperable project of its kind, making roads safer in Europe while ensuring better drivers' conditions.
How many countries are using digital/smart tachographs?
Today, 53 countries, comprising all of Europe plus Turkey and the CIS states (Russian Commonwealth of Independent States), have the system deployed. 
The system is very well-known by all the different stakeholders, and it is the subject of many discussions about its evolution and usability.
In 2016, a new Smart Tachograph system was introduced, and in 2019, 32 countries migrated to this new technology.
In other words, It's an evident success.
Let's see what drivers think of tachos.
6+ million trucks and buses with tachos in 2019
A European study showed that truck drivers' fatigue had been identified as the main cause of 6% of accidents, 37% of which were fatal.
The total cost of accidents for all commercial vehicles above 3.5 t would amount to € 2.8 billion.
The introduction of the digital/smart tachograph can be considered a success. We have to bear in mind the large variety of stakeholders involved in the system as expressed by the European commission's IMPACT ASSESSMENT​ on measures enhancing the effectiveness and efficiency of the tachograph system Revision of Council Regulation (EEC) No 3821/85 of July 2011. 
Tachograph cards are used by one million transport companies and more than six million professional drivers. The system is fitted in more than six million trucks and buses.
So what are the benefits of digital/smart tachographs?​
The digital/smart tachograph serves as an essential part of national and international road safety and a valuable tool for freight and passenger transport fleet operators.
The digital/smart tachograph allows better enforcement of the social legislation, as it is much harder to commit and conceal fraudulent manipulation of the system. 
​The introduction of the digital/smart tachograph has therefore contributed to achieving the aims of social legislation (EC impact assessment):
improved road safety by drastically reducing fraud linked to excess driving time and speeding.
Better working conditions for drivers
fair competition between transport companies.​​
Let's see more technical aspects.
What is a digital tachograph?
The digital tachograph system encompasses:
a motion sensor and a controlling vehicle unit installed in trucks and busses 
and four types of DIGITAL tachograph cards.
These four cards are:
a card with photo for commercial drivers to store all individual driving activity over the previous four weeks, 
a card for the company operating the vehicle for fleet management, 
a card for approved workshops responsible for installing and calibrating motion sensors
a card for the authorities performing roadside checks.
First introduced in the EU, the system has also been mandatory in the AETR countries since 2010.
AETR countries are Albania, Andorra, Armenia, Azerbaijan, Belarus, Bosnia and Herzegovina, Kazakhstan, Liechtenstein, Macedonia, Moldova, Monaco, Montenegro, Russia, San Marino, Serbia, Switzerland, Turkey, Turkmenistan, Ukraine, and Uzbekistan.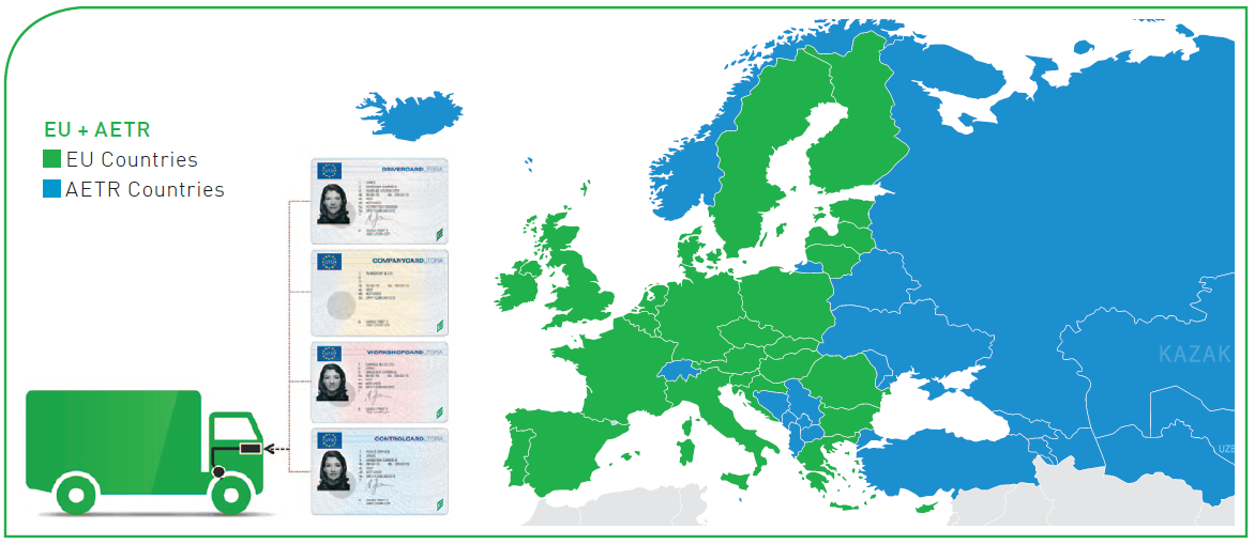 Smart tachographs Version 1 since June 2019 
Thales had an important role during the migration in Europe to the Smart Tachograph Version 1 System. This new system is based on the new tachograph regulation (EU) n° 165/2014, coming into force in March 2016, which mandated enhanced features for digital tachograph systems. 
The new generation of smart tachographs was mandatory as of 15 June 2019.
 
The new regulation on recording equipment in road transport supports satellite-linked technology (connection to Global Navigation Satellite System (​GNSS), remote roadside checks via wireless Dedicated Short Range Communication (DSRC), and enhanced security with cryptology in particular.​
Showing its commitment to Road Safety in Europe, Thales supported 28 out of 32 countries during their Smart Tachograph Version 1 Cards migration projects.
The introduction of Smart Tachograph is considered a success as it has been deployed on time despite the need for strong coordination between all the different stakeholders.
Smart tachographs Version 2 in August 2023 
On July 8th, 2020, the EU parliament has adopted a major reform of the road transport sector, also known as Mobility package I.
This new reform aims to improve drivers' working conditions, define clear rules on posting drivers, and ensure better enforcement to fight illegal practices.
As a result, introducing a new version of Smart Tachograph, the so-called Smart Tachograph Version 2, is required to support these new rules.
Thanks to its expertise in this area, Thales was invited to be part of the Group of Experts defining the specifications for the Smart Tachograph Version 2.
The smart tachographs version 2 is mandatory as of August 2023. Have a look at the EU Press Release and Press Conference.
Thales is already engaged and committed to supporting, once again, the EU countries on this major initiative.
Where does Thales fit in?
We contribute to road safety.
Thales is proud to contribute to 39 successful tachograph implementations​.
We believe one of our mission is to collaborate with our clients to report and share best practices worldwide. We understand the Tachograph Cards project complexity and close collaboration with all the different stakeholders.
We've also been contributing to the eCall, the EU emergency-call system. We are one of the leading providers of M2M modules fitted in all new types of vehicles sold in the EU as of April 2018.
Tachograph and you
Now it's your turn.
If you've something to say on digital/smart tachograph or road safety, a question to ask, or have found this article useful; please leave a comment in the box below. We'd also welcome any suggestions on how it could be improved or proposals for future articles.
We look forward to hearing from you.