What is cloud banking?
In essence, cloud banking is the on-demand delivery of hosted computing services (servers, data storage, communication and networking, applications and data analytics) to banks, credit unions, Fintechs and other financial institutions (FIs) via the Internet.
With cloud banking, FIs have access to scalable, cost-efficient computing resources and IT services.
The result?
They can manage core applications and banking systems over the Internet (« the cloud »).
They can improve practically all areas of their business operations.
More importantly, FIs can deliver outstanding financial services and digital banking experiences to their prospects and clients - hence « cloud banking services ».
Cloud banking appears to be the next logical choice for FIs.
Why?
Because this flexible architecture is essential for e-banking, where some services are available online and virtual banking, where all services are online and there's no need for walk-in premises.
It's also crucial for open banking, where third-party financial service providers can get open access to consumer banking and other financial data. 
Needless to say, FIs have the challenging task of ensuring that the right people have the proper access to the correct information.
The good news?
Thales is introducing a suite of three additional cloud-based services dedicated to FIs.
Our field-proven solutions guarantee an ideal balance between a user-friendly and secure online experience - with the scalability, reliability and availability of top cloud computing platforms.
Additionally, they protect digital banking customers from external attacks on whatever device they use.
Let's jump right in.
Thales Gemalto IdCloud 
Today, we help banks take advantage of their ongoing digital transformation by ensuring customer trust and regulatory compliance.
Gemalto IdCloud is a suite of cloud-based managed services that enable FIs to combine:
to secure onboarding and access to digital banking services and enhance the customer journey - with one single platform. 

Cloud banking solutions for onboarding and recurring access
You know the score.
For a fully digital onboarding of new customers, which sticks to stringent know your customer (KYC) regulations, you'll need identity-proofing services such as document verification, face recognition and anti-money laundering checks (AMLs). 
For recurring access to your digital banking services, you'll need strong customer authentication (SCA) and the ability to digitally sign transactions and encrypt the sensitive data exchanged between users and the FI. 
And for a smooth and cost-effective customer journey, you'll probably need to add risk management.
Now, that's NOT a problem. You can provide secure onboarding and access to all your digital banking services with Thales Gemalto IdCloud services.
Extended onboarding with identity affirmation
By adding identity affirmation, you can strengthen the security of your identity-proofing process. Identity affirmation applies risk management technologies to analyse the environment and user behaviour to detect suspicious activities. Its goal is to prevent ID fraud during digital onboarding. Still, it can also lower the total cost of ownership by avoiding additional checks and abandoning high-risk enrolments at an early stage. 
Enhanced access with risk-based authentication
By adding smart risk management services to the access phase, the risk level of every single customer transaction is analysed, and a recommendation on the most appropriate authentication method is given.
The best part?
This process helps make the right choice to minimise risk and prevent account takeover fraud:
allow the transaction,
block the transaction,
challenge the customer with a step-up authentication.
Now: FIs can define a risk-based authentication (RBA) policy based on customer segmentation, customer preference, use cases and their own parameters.
All checks run unobtrusively in the background to provide the best end-user experience. 
Read more about our fraud risk management services.
Read more about our digital banking access services. 
One platform to secure the digital banking journey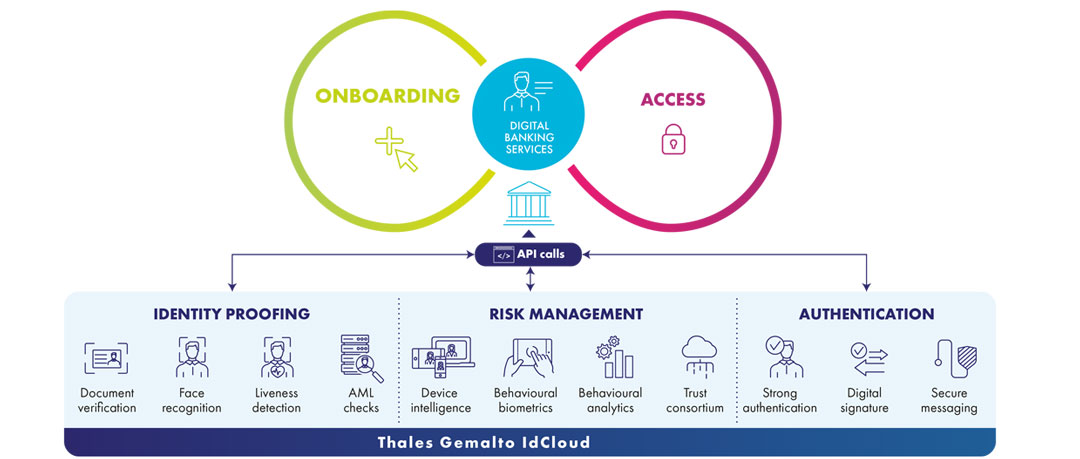 The benefit of Gemalto IdCloud is that all the services you need for a complete customer journey are available on one cloud-based platform. 
As your needs and customer use cases evolve, we ensure you will always benefit from the latest identity proofing, authentication, risk management and mobile security technologies. 
Securing and enhancing your digital banking customer journey has never been easier. 
Smooth integration and compliance
Our Gemalto IdCloud platform is certified with SOC2 and ISO27001 to meet critical security and compliance requirements.
There's more.
The audit and compliance process is simplified with a single platform approach to support the latest privacy and security regulations, such as GDPR, CCPA, PSD2, and FFIEC.
Cloud banking services bring tangible benefits to FIs
Moving to the cloud is critical for financial institutions looking to develop new services and speed up their time to market. 
It's a no-brainer.
Cloud is not the future nor an emerging trend anymore.
It is now a critical tool for FIs to stay competitive in today's challenging business environment. 
And the regulations are no longer a barrier to moving to the cloud. Most of them align with a cloud strategy and even encourage it. 
Moving to the cloud is part of the digitalisation strategy of many FIs, bringing benefits such as: 
Faster time to market: by enabling FIs to concentrate their efforts on bringing new and innovative services to the market and allowing them to release them much faster 
Lower costs: by significantly reducing hardware, facilities and labour/maintenance costs.
Better service operations: the cloud offers the scalability to handle changing workloads and peaks in demand. This ability, in turn, means robust availability and simpler IT infrastructure management. 

More resources on cloud banking and secure digital banking services