• SMAD:
Long range acoustic location - Suited for Symmetric warfare, border protection, camp protection - Whole threat spectrum (artillery guns, rockets, mortars, tank guns, RPGs, small calibers, etc.)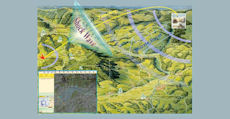 • BASS:
3D acoustic target location against small caliber weapons, RPGs and mortars - Static version (local protection, etc.) - Vehicle version (convoy on-the-move, etc.)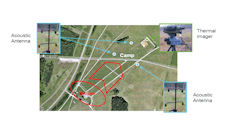 • SMAD and BASS:
Outstanding location probability due to unique combination
- Muzzle burst (impact, explosion)
- Shock wave, generated by supersonic
- Projectiles (unique patented process)
• GA – SR
(Ground Alert Short Range)
- Non-Line-of Sight situations (perimeter, border control)
- Detects pedestrians hidden by dense foliage, on covered forest paths, etc.