Thales Australia is immensely proud of those who have served in the Defence Forces and as an organisation we feel very deeply our responsibility to provide the Australian Defence Force with the best possible capabilities and products.
As one of the country's leading defence and technology companies, we are commitment to  the continued and sustainable support of veterans and their families, including employment opportunities and support for veteran focussed charities. 
Thales Australia proudly employs veterans across a range of our sites and continues to work across the business to identify employment opportunities for veterans. Over 400 staff members have identified as Veterans with numerous continuing to serve in a Reserve capacity. 
Thales feels very deeply our responsibility to provide the Australian Defence Force with the best possible capabilities and products. We know there are unique challenges that Veterans can face when embarking on a civilian career and we are committed to ensuring that Thales Australia is an attractive and supportive workplace for Veterans and their families.
days leave for ADF Reservists
To support our commitment to the Australian Defence Force, the Respect@Thales council launched the Thales Australia Veterans' Committee. The purpose of the Veterans' Committee is to provide advice and governance to Thales Australia's leadership and employees on the issues facing Veterans and their families.  The key pillar of the committee's strategy is to assist veterans with transitioning from Defence to private industry. This reflects and acknowledges the highly valuable contribution that veterans make to a variety of industries and furthers Thales's goal to be an employer of choice for veterans; where they can use their talent to continue supporting Australia's national interests. 
At Thales Australia we embrace diversity and it takes a mix of minds, experiences and perspectives for innovation to flourish. We recognise that veterans bring a wealth of knowledge and insight about our key customer, the ADF.
Watch Peter Bull, Vice President Digital Systems, Thales ANZ, and 11-year veteran of the Royal Australia Air Force.
Best in industry Reserve Paid Leave Policy
One of the first initiatives implemented by the Thales Australia Veterans Committee was to lift Paid Reserve Leave provisions to 30 days; a best in industry standard. While the broader organisation has always been wholly supportive of ADF reservists, this policy formalises allowances to ensure that 'leave balances' are the least of people's concerns. 
"This was one of the committees first steps in ensuring reservists have the leave they need. Additionally, all Managers are aware of the leave provision, as well as additional requirements, so if more leave is needed – it's just an easy chat with your manager." Nick de Bont – Chief Security Officer and Chair of Thales Australia Veterans Committee
Thales Australia Veterans Mentoring Program
Thales Australia is a top employer of veterans in defence industry with over 13% of our current workforce having served, or continuing to serve, in the military. The nature of Thales's work means we have an intimate understanding of not only the challenges, environment, and requirements of the defence force, but how that can translate into the civilian world. Given this rich understanding, and our desire to help veterans continue that culture of contribution, Thales Australia has established a Veterans Mentoring Program. The aim of this program is to support employees with the transition from defence, as well as helping to navigate areas such as skills development, career progression and utilisation of those ever important 'soft skills' honed through military service.
Integration of Veterans support with Thales Employee Assistance Program
Each one of us has diverse needs, triggers, influences and, on occasion, unforeseen experiences or life changes. The Thales Australia Veterans Committee, with the support of Executive Sponsorship, endorsed a range of measures specific to the veteran's community to be integrated with our Employee Assistance Program, meaning that assistance is individualised, specific and considers the unique needs of this community. 
Honouring Veterans in the workplace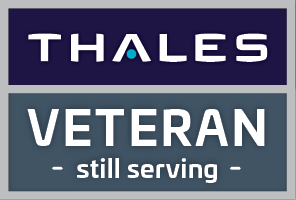 Across our sites, and in the organisation as a whole, we take pride in honouring veterans and their families. These initiatives include: commemorative activities, educational seminars, attending offsite events and participation in fundraising activities. 
However, a seemingly 'small' in terms of scale, but largely impactful initiative is the Thales Australia Veteran Pin. This pin is presented to all veterans in our community through a special event to signal that the mateship, comradery and sense of belonging that may feel 'lost' to those who have newly, or even perhaps not so newly, transitioned, is very much still a part of the Thales culture. 
Veterans Portal
The Thales Australia veteran's portal serves as a repository of all-important information relevant to veterans' employees at Thales including: an overview of veterans committee members, commemorative events, points of contact, counselling services and not for profit charities that Thales Australia supports.  It's the 'single source of truth' for the veteran's community where all members can stay in touch, reach out, and obtain any information they need.
Global Veterans Community
As a veteran working at Thales Australia, you also join a community of veterans across the globe. With strong ties to the community in the United Kingdom and France, there are opportunities to extend your network not just locally, but further afield. The veteran's committees from the three nations meet (virtually of course) on a semi regular basis to discuss a range of topics, and also just to continue that sense of community and comradery.
Reach out to the Thales Australia Veterans Committee
If you're thinking about making the transition from the Australian Defence Force, but you don't know where to start, or just have a few questions, feel free to reach out to our Thales Australia Veterans Committee. Your enquiry is handled in the strictest confidence. 
Australian Defence Force Reservists play an important role in the defence and protection of Australia's interests through: combat exercises and operations, humanitarian missions, disaster-relief activities, border protection patrols, and security tasks. To ensure that Reservists can continue to serve their country, while working full-time, they need to be part of an organisation that champions, supports, and, most importantly, understands their service.
In addition to the skills and qualities Reservists bring to an organisation, there is also the added benefit for both Thales and Reservists that hinge on the critical exchange of knowledge between their military service and civilian employment.
Thales aspires to be a preferred employer of choice for Veterans and those who continue to serve in a reserve capacity.

Supportive Employer Program
Thales is a Gold Member of the Supportive Employer Program which recognises employers and businesses that go above and beyond to support their Australian Defence Force reservist employees.
To read more about the program, click here.
Principal partner of The Legacy Centenary Torch Relay  
Throughout 2023, Legacy will be celebrating their centenary with The Legacy Centenary Torch Relay, presented by Defence Health, marking 100 years of service to veterans and their families. Thales Australia is proudly a principal partner of the campaign.
You can read a full summary of the European leg of the relay, here.
Legacy
Since 2008, Thales Australia has been a proud supporter of Legacy; one of Australia's oldest charitable institutions dedicated to caring for families of Australia's war veterans. We are honoured to be involved in the care, compassion and support provided by Legacy to those we trust to keep us and our nation safe.
Navy Clearance Diver Trust
Thales is a Gold Sponsor of the Clearance Diver (CD) Trust providing relief from hardship for CDs and their beneficiaries and programs aimed at preventing CDs from getting into hardship.
Soldier On Pledge Partner
Thales is strongly committed to the ongoing employment of Veteran's and has signed the Platinum Pledge with Soldier On, which is designed to provide employment pathways for veterans and their families transitioning from the Australian Defence Force into civilian life. Read more.
Our goal is to recruit even more veterans in the future to ensure we fulfil our commitment to supporting our troops, both in and out of battle.