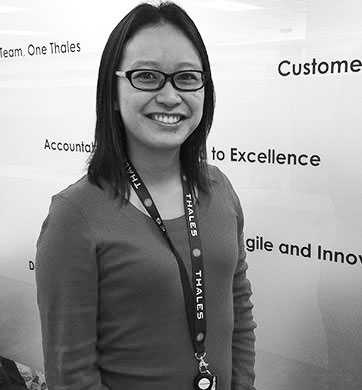 Assistant Manager Customer Support
I graduated from Singapore Polytechnic with a diploma in aeronautical engineering. After graduation, I joined Thales and stayed for five and a half years before leaving the company in 2011. During this period in Thales, I had also taken up the sponsorship of Thales to further my studies in the university. And with that, I had successfully graduated with a degree in supply chain management. Then I re-joined Thales in 2013 and have stayed with Thales ever since.
Why did you choose this career path?
I chosen to embark on this career path because there is a correlation between my diploma studies and the industry that Thales is in. In addition, I love to interact with different people from all around and this job gave me the opportunity and satisfaction to do so. In this job, it also allows me to travel to other regions to meet up with my counterparts and understand their culture of working.
Looking back, what are the highlights in your career so far?
Now I am back on my second phase of the my career in Thales, the turnover rate has drastically reduced to zero under my leadership guidance. This is attributed to the increased morale and team work that I had incorporated in the team. Also, able to build a friendship bond with the difficult customers had been an achievement for me. And with this friendship relation, it helps to ease the situation when encountered.
What are the major challenges of your job today?
To ensure high customer satisfaction, and with customers getting more demanding, we have to constantly upgrade ourselves to find different means to resolve their queries and requests. In addition to the high influx of competitors, we have to ensure our price competitiveness in the market. So, we have to price ourselves more worthy as an OEM, compared to those MROs.
What's next?
With the upcoming challenges in the job, I would like to broaden my horizon in the sales development function. Mainly to deal with the profit and loss in terms of the product repairs and contractual repair so as to up our value in the aviation market.
Why should people consider a career in Thales? Thales is a people first company where there are flexi working hours which can be arranged with the management. With my near ten years experiences in Thales, the warmth, care and guidance from colleagues and management are always readily available.