I-Master is a compact, lightweight airborne surveillance radar that delivers proven benefits over traditional visual based sensors, such as all-weather surveillance, pattern of life monitoring, change detection and wide area coverage.
It has the ability to accurately detect and locate moving and stationary targets at long stand-off ranges over land and sea.
See things you didn't think possible, with I-Master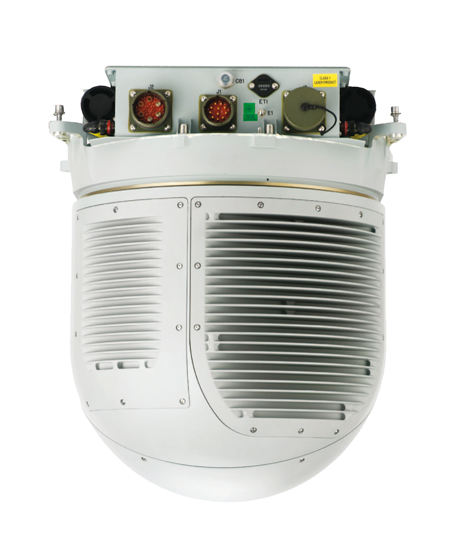 Key Features
360° surveillance capability minimises the need of repositioning the aircraft during surveillance and enables you to still maintain contact with the target
Single 15" gimbal unit that is simple to install, puts minimal demand on aircraft systems allowing for more time on mission
Unique geo-location accuracies increase confidence in precisely locating targets of interest quickly
See in detail areas of interest with ultra-fine Synthetic Aperture Radar (SAR) imagery
Detect slow moving targets, such as people walking who can be detected and tracked
See changes not detected by the human eye or camera imagery
Use different modes to track moving targets, get imagery through cloud or even see areas of ground disturbance
Benefit from high-performance surveillance capability on multiple aircraft types
When combined with high-performance day/night camera, the I-Master Radar begins to transform your surveillance capability. With automatic cross-cueing, you significantly reduce manual operator workload, and maximise analysis time of the intelligence being gathered. You improve detection/identification rates, reduce search times and maximise your overall effectiveness. With I-Master you are able to detect ships up to 100km, vehicles up to 35kms and infantry movement up to 15km.
Operators can select and switch between a number of different modes, depending on the mission, which include world-leading Ground Moving Target Indication (GMTI), SAR, Coherent Change Detection (CCD) and Maritime Moving Target Indication (MMTI) modes.
I-Master incorporates world leading GMTI to show the Mission Commander any moving objects in the radars field of view. Track tactically important targets, such as very low speed, low radar cross-section foot patrols through to fast moving targets such as speeding vehicles and under flying aircraft.
Multiple GMTI tracks are displayed instantly on the operator's workstation and can be overlaid on a Digital Map, Satellite or SAR Imagery. 
With its wide area coverage surveying for moving targets, the probability of detecting potential threats is significantly increased over a stand alone EO/IR sensor or human spotter. GMTI can be used to cue EO/IR sensors to observe targets in more detail and ensure surveillance continuity. Should the target become obscured by cloud, fog or dust I-Master will continue to track accurately.

SAR mode provides an accurate real-time, high resolution ground mapping capability, and is capable of wide area coverage of more than 800 km2 of terrain per hour - even in conditions of cloud, rain, fog, smoke and sand storms that would defeat camera-based systems/EO/IR sensor.
I-Master's Strip-map SAR mode would be used for wide area detection of stationary targets such as vehicles or encampments. Alternatively, the mode may be used for terrain mapping purposes.
I-Master's Spotlight SAR mode would be used to obtain higher resolution imagery of specific targets for classification purposes.

By comparing SAR images of the same area taken at different times (whether hours or days apart), it is possible to automatically highlight subtle changes that have taken place in between times. For example, new encampments, temporary barriers, and the arrival and departure of vehicles.
I-Master's detects extremely subtle changes. Its unique Thales CCD algorithms enable historic tracks or imprints to be displayed on the image that are not visible to the eye or alternative sensors such as an EO/IR.

MMTI allows users to detect and track targets in the maritime domain, ranging from small, fast moving crafts such as jet-skis, to larger, slower vessels such as ships and tankers.
Algorithms designed specifically by Thales can detect unusual vessel movements, perform "pattern of life" analysis and carry out persistent tracking of targeted vessels.

I-Master offers the Mission Commander great versatility and utility.
It can be used to perform the following roles:
Border protection
Wide area surveillance
Land asset protection
Disaster assessment
Counter narcotics
Battle damage assessment
Search and rescue 
De-forestation patrols
Illegal mineral extraction patrols
Pattern of life monitoring 
Prevention of smuggling and piracy
Pollution control and monitoring 
Collection of forensic timestamped evidence 
Oil and gas field protection in the littoral
All weather surveillance