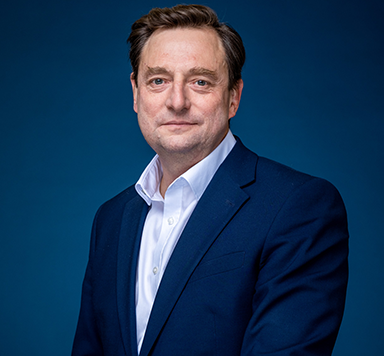 Alex Cresswell
UK Chief Executive Officer
Alex Cresswell
Chief Executive and Chairman, Thales UK
Alex Cresswell is a strong advocate for the benefits that science and technology can deliver to nations and individuals. Inspired by a childhood passion for flight to study Aeronautics and Astronautics at Southampton University, he retains a life-long passion for the application of science and technology to transport, aerospace and defence.
Alex was appointed Chief Executive and Chairman of Thales UK in 2020, following a 35- year global career within the aerospace and defence sectors. Alex is a member of Thales Group's Executive Committee, and also has responsibilities for Thales in the USA, Australia and Canada.
Directly employing 7,000 people UK-wide and contributing around £2bn to the country's GDP, Thales in the UK provides safety and security infrastructure and sovereign capability to sectors as diverse as defence, banking, aerospace and transport. Its varied projects range from delivering the digital identity and security that underpins our connected world, to designing the Queen Elizabeth class aircraft carriers.

 

Alex joined Thales in the UK in 1992 and progressed to become a member of the Thales Group Executive Committee in 2010, before being appointed in 2013 as Executive Vice-President, Thales Land and Air Systems, a global business with €3.4Bn revenues and 11,000 employees.

 

His achievements and contribution to the growth of the business led to his investiture as a 'Légion d'honneur', in 2017.