Thales brings people and technology together to create integrated training systems for mission-critical applications. Combining immersive digital simulation systems, Artificial Intelligence, training, data capture and modelling, Thales's systems and training expertise ensure operators have the skills to make complex decisions, and achieve operational outcomes in any environment.
A pioneer in simulation technology, Thales remains at the forefront of the next generation of integrated learning environments.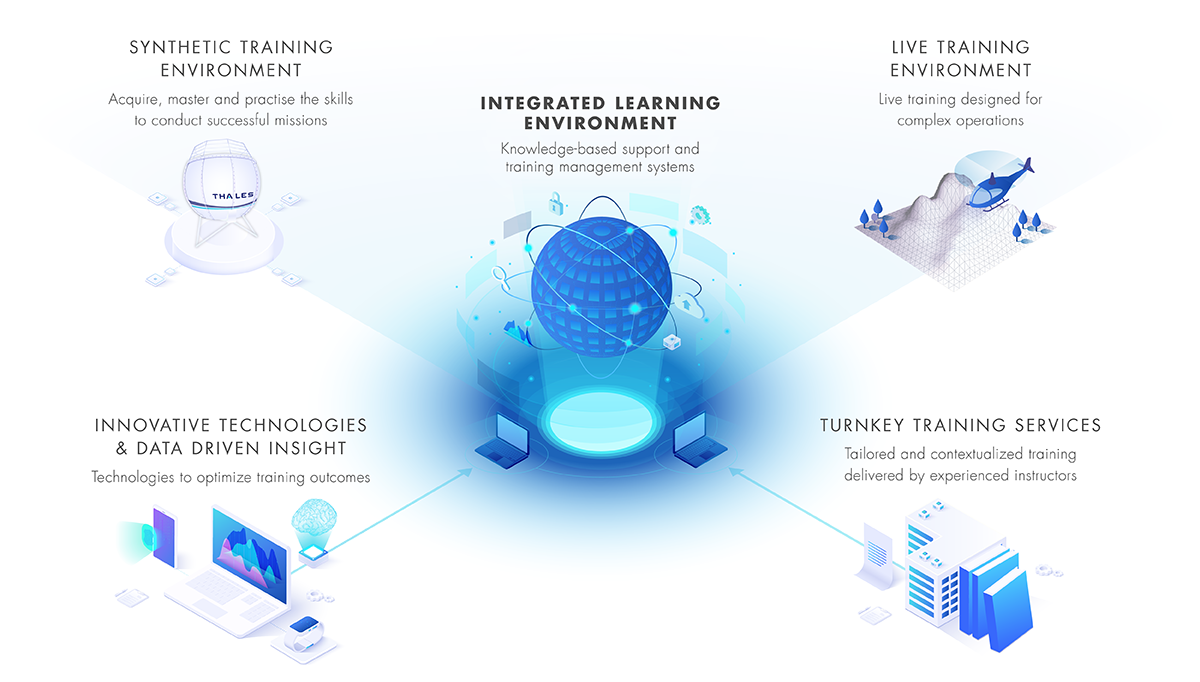 Operational at every mission-critical moment
Thales's full suite of training and simulation solutions are backed by tailored 24/7 services including engineering, maintenance, supply, facility IT & logistics support, ensuring each system is operational throughout every mission-critical moment.
Thales has developed training technology and services to meet the training needs of the Royal Australian Air Force, The Royal Australian Navy and the Australian Army. Globally, Thales also provides Training Systems Integration to support the air, naval and ground forces of over 30 military services including in the United States, United Kingdom, France, Netherlands, Belgium, Germany and Norway.
With over 50 years of experience supporting military forces, Thales has a unique understanding of how these forces train, deploy and operate. By understanding user requirements and applying our proven models, Thales has developed the expertise to support the introduction of challenging, realistic and demanding training systems able to support joint and coalition network-centric operations.
Thales's renowned domain experience and expertise ensures training systems remain relevant and future-focused. 
A local track record
Thales supports the ADF, preparing Army and Navy aircrew through delivery of world-class training systems. Thales is delivering mission ready aircrew using best in class simulators at the Helicopter Aircrew Training System (HATS) at HMAS Albatross in Nowra, NSW. Thales provides three level B EC135 Reality H Full Flight Simulators, Virtual Reality Trainers for rear crew procedural training including hoist, confined area landings, underslung load, gunnery and aircraft marshalling training, Tactical Part Task Trainers and Desktop Trainer classrooms for tactical, sensor and communications training.
Within the training system, Thales delivers components of the Integrated Learning Environment (ILE), training delivery and training courseware development and support services. The system is capable of training 130 students per year as a mix of Pilots, Aviation Warfare Officers, Sensor Operators, Aircrewmen and Remote Pilot Warfare Officers.
Designing training for the next generation of Defence recruits is a complex challenge. How do we solve the demands of advancing aircraft technology and provide valuable and relevant training well into the future?
AircrewNext™
AircrewNext™ is a framework designed to enable tomorrow's aircrews to be smarter, faster, better equipped and better prepared. Encompassing modern learning techniques, advanced synthetics, immersive technologies, biometrics and data analytics, AircrewNext is re-shaping how we learn by blending these key elements into an intelligent and trainee focused digital ecosystem.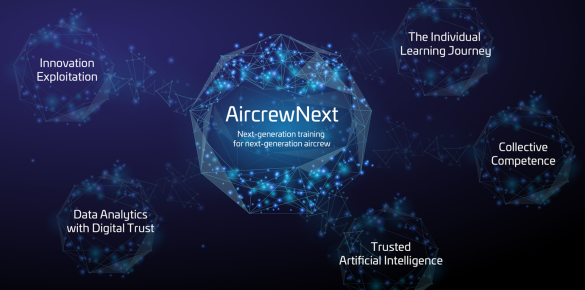 Collective Training, Simplified
NUADA simplifies the planning, preparation and delivery of activities that employ networked simulation environments including Synthetic Collective Training, by reducing the effort required and the time taken to setup and manage simulation-based events. It allows those who are not simulation technical specialists to easily prepare and deploy simulation environments including enabling the reuse of assets and the repetition or modification of past events. The result is a reduction in the costs of running simulation events and the ability to provide an agile response to changing requirements.
Human Performance Monitoring
HuMans (Human Performance Monitoring) enables an instructor to evaluate the mental workload of a trainee during a training event. HuMans assists instructors to provide real-time and post-flight training adjustments to tailor training specifically to the trainee's needs and stage in the learning pathway. This allows the trainee to objectively understand their mental performance within their training environment, and to identify ways to adapt their behaviours in order to improve their own effectiveness.
Operational Modelling and Digital Twins
Technology and capability requirements continue to converge and evolve at pace, dictating mission preparedness and effectiveness. Thales's simulation, modelling and digital twin capabilities ensure full confidence in solutions for air traffic management, urban air mobility, platform operation and continuous improvement of equipment and systems. By leveraging this technology and our approach to working collaboratively with customers we ensure our approaches to aircrew training remain at the leading edge of innovation.
Contact
General Enquiries
+61 (0)2 8037 6000