"BIG", a way to reinvent ourselves to make tomorrow possible today
Since 2016 the  Group organize the Business Innovation & Growth (BIG) Challenge, mobilizing the  ingenuity and creativity of its employees  from all around the world. Over the years, this initiative has proved to be a  true opportunity for all to carry out disruptive digital business innovation projects, experiment things that the industry has never offered and thus, make tomorrow possible, today.
As of today, "BIG" brought the opportunity to over 10,000 Thalesians around the world to embark in action-learning journey for the implementation of test & learn practices, understanding and framing customer's problems to be solved, developing the skillset for market-analysis-making and crafting innovative value propositions. "BIG", an intrapreneurship program for supporting Thales' teams on business innovation.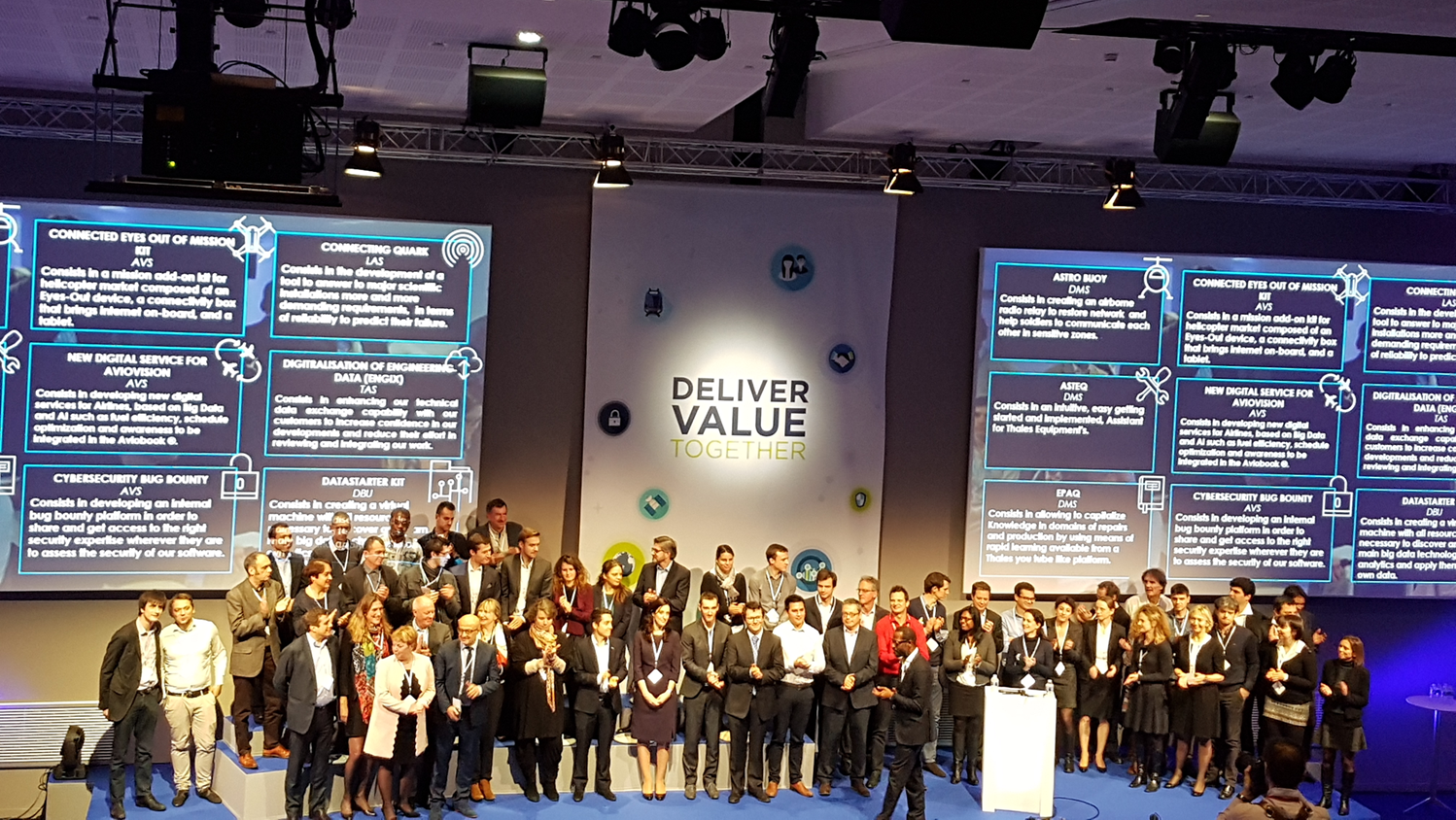 The BIG program is a catalyst for the sense of action of each of us, as Thalesians, part of
ONE Team, ONE Thales
Beyond the business innovations managed by our business lines, which subscribe to the definition of the future that we plan and validate (aka the "Strategy"), at Thales, we also want to surprise ourselves by creating possible futures, those for which, with humility, we had not thought in our strategic planning and which could lead to the invention of new business models for the Thales of tomorrow.
Beyond the approach of providing guidance, defining expected results and the necessary budget to achieve it, in terms of business innovation, at Thales, we also want to make radical experiences, off the beaten track - as we do in terms of technical innovation research and development - whose expected results are not defined in advance, and which will allow us to explore the unknown to discover things that only explorers discover.
Beyond our structured processes, built to leave nothing to chance and increase the level of certainty before any execution decision, at Thales, we also want to leave room for chance and create the conditions in which certainty is built only through experimentation, to create the caring conditions in which teams can test things, fail and learn, so that what seemed impossible could emerge.
Beyond the recurring activities and the typical professional lives of every Thalesians, at Thales, we also want to offer employees who wish it the opportunity to be ever more useful in the service of our customer's Ambitions. We want to give them the opportunity to contribute to something that joins or reinforces the sense of their commitment for Thales.
"BIG", an opportunity to solve real world problems with ground-breaking solutions
Our customers come to us with BIG ambitions and we have develop the BIG Programme to the service of their cause.
How to protect human beings?
How to allow any people in the world to have access to information in the air, on the ground or at home, under any circumstances?
How to contribute to the further progress of science such as astronomy by helping to learn more about the secrets and threats of our world and others worlds?
How to reimagine the experience of flying (ie with unmanned aerial vehicles, etc.)?
How to be a climate change issues solver (ie reduce the impact of air travel, etc.)?
How to rethink the urban transport experience, helping cities across the globe to meet the challenge of smart and unmanned transport solutions, whether they are semi-autonomous or fully Autonomous?
How to simplify the growing complexity of transport systems for making public transport more attractive and enjoyable, contributing to cities sustainable development?
How to enable the armed forces to carry out their missions safely, in the physical as well as in the new digital battlespace, encompassing the land, air, sea and space environments?
How to ensure secured connectivity for citizens, cities and critical infrastructures while protecting data and Internet-of-Things (IoT), everywhere, at any time?
How to defend cyber networks to protect anyone's data and prevent the loss, misuse, or alteration of any sensible information? Etc.
The "BIG" programme aims to address customer's BIG ambitions in an innovative way, privileging Iteration over Perfection, Openness over Restriction, Empowerment over Permission, with no sacred cows, no taboos and no status quo, making Experimentation the Norm throughout the Group and contributing to The Thales Digital Transformation journey.
Take a look at other initiatives: