A Multi-Function Air Defence radar
The wide variety of threats, armed forces face in their theatres of operations today is becoming stealthier, faster and harder to detect in the clutter of the battlefield. The multifunction capabilities of the Ground Fire 300 (GF300), can be a real game changer in allowing armed forces to see more, faster, both closer and further afield and at the same time be capable of guiding own missiles to engage enemy targets.
Facing more complex, fast paced environments
Today's theatres of operations are becoming increasingly complex. With the resurgence of great power competition, armed forces are now deployed in an ever widening range of operational environments presenting different characteristics and constraints. With fast paced technological advances, they also face a growing number of faster, stealthier and more diverse threats: from Theatre Ballistic Missiles (TBM), supersonic and subsonic missiles, to stealth aircraft, helicopters and drones, all the way to Rocket, Artillery and Mortar (RAM). 
Reacting promptly to multiple threats in a wide variety of operational environments can be challenging, especially if those threats aim at saturating defences. Whether they are protecting national airspace, international events, or sensitive infrastructure, or whether they are deployed in complex theatres of operations, armed forces must be able to rely on a true multifunction radar like the GF300. They also need, where possible, to be able to counter those threats.
Air surveillance and defence, in a switch
Featuring a 400km range with a 360° coverage in azimuth and 90° in elevation, the GF300 offers complete hemispherical protection. 
Featuring autonomous Ballistic Missiles (BM) detection, the GF300 warns armed forces about incoming threats. When integrated in a Ground-Based Air Defence (GBAD) system, it has also been designed to provide target location information in order to enable Ballistic Missile Defence (BMD). In rotating mode, the GF300 is capable of detecting and engaging of short-range BMs, while in staring mode it can detect and engage medium-range BMs. 
Closer to the frontlines, the GF300 has also been designed to provide protection against a wide variety of threats of all sizes and speed. Featuring element level digital beam forming, it uses high-resolution doppler processing to see even the smallest threat in severe clutter, while its weapon location capability greatly enhances its Counter-Rocket, Artillery and Mortar (C-RAM) performances.
As a software defined radar, the GF300 provides armed forces with  the capability to easily switch radar missions to ensure superior air surveillance and defence while providing at the same time, missile guidance support for the Aster missile family.
Prevent saturation
Benefitting from the most recent advances in technologies such as Gallium Nitride (GaN) and 4D Active Electronically Scanned Array (AESA), the GF300 can track over 1000 targets simultaneously. Depending on the mission, it is also capable of detecting Unmanned Aerial Vehicles (UAV) of different sizes - from mini to High Altitude Long Range (HALE).
In a fast-changing, fast-paced operational environment such feature provides armed forces with the protection they need against saturation of air defences.
Maintain tactical readiness, any time, anywhere
The GF300 has been designed to provide armed forces with a highly tactical radar. Capable of fitting in a single 20 feet ISO container (weighing less than 11 tons) it is easily transportable by road, rail and tactical aircraft (C-130 or A400M). When mounted on a truck, the GF300 also features short encamp (15 minutes) and decamp (10 minutes) times for faster tactical deployment in a wide variety of theatres of operations.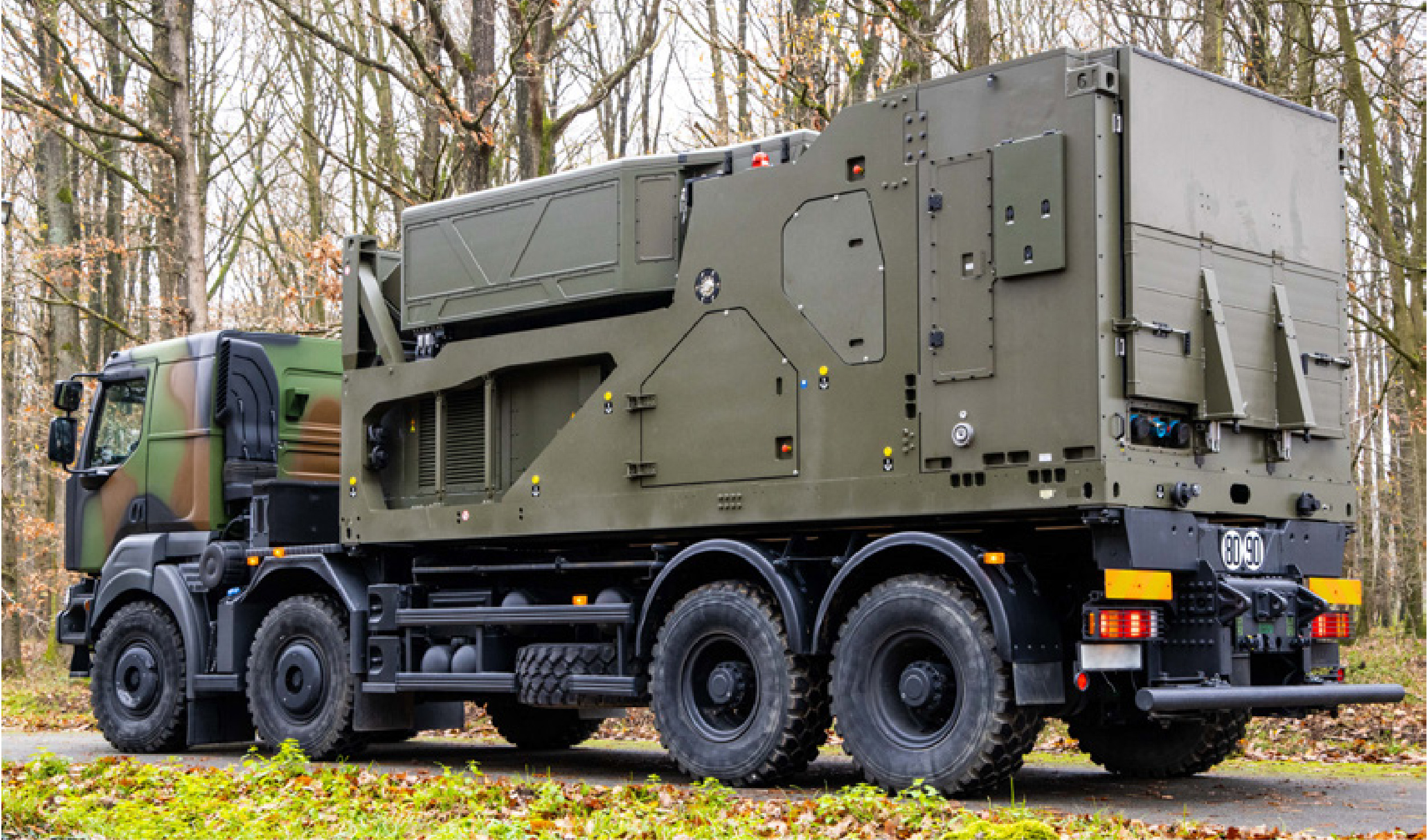 Key benefits
Autonomous detection of BMs
Air defence & BMD for Aster missile family
Digital multi beam forming
GaN based 4D AESA antenna
Element level digital beam forming
Full hemispherical coverage (360° in azimuth, 90° in elevation)
One single package as an ISO 20ft container weighing 11 tons
Mean Time Between Critical Failures (MTBCF)> 3000 hours
Chosen and planned maintenance with limited team 
Did you know?
The French armed forces have selected the GF300 to integrate it with the Aster missile in their GBAD.