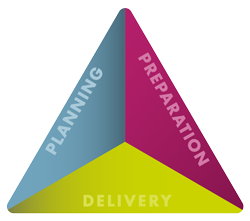 NUADA is a new digital solution developed by Thales that simplifies the planning, preparation and delivery of activities that employ networked simulation environments including Synthetic Collective Training.
NUADA reduces the amount of effort required and the time taken to setup and manage simulation-based events. It allows those who are not simulation technical specialists to prepare and deploy simulation environments including enabling the reuse of assets and the repetition or modification of past events. The result is a reduction in the costs of running simulation events and the ability to provide an agile response to changing requirements.
NUADA simplifies the process of delivering simulation events by providing the ability for non-technical personnel to easily define a simulation environment by selecting items from a library of simulation assets and then using an automated process to instantiate the environment when required for an event.
NUADA supports the preparation and delivery of events where a number of participants need to be connected together in a simulation environment. Events can be for training, experimentation or other purposes and participants can be co-located at a single site or distributed across multiple locations. Connectivity can be between physical simulators and simulation applications and services deployed in a (private) cloud environment. Due to NUADA's dynamic deployment capability, multiple events can be run concurrently across the same infrastructure.
Events are created by assembling combinations of simulation assets. Information detailing an asset's type, modes of operation, quantity, availability, accessibility and capabilities is included when first adding it to the system. The NUADA user can use a drag and drop style interface to 'compose' an event by selecting an appropriate set of assets from those available in the system. NUADA then uses the data about the assets to intelligently define the required network, computing and software configurations such that the environment is created and setup automatically when required for use.
With NUADA you can:
Simplify the management and setup of simulation environments
Respond quickly to changing requirements
Easily reuse assets and repeat simulation events
Reduce the time and staff required

To enquire about NUADA please click here.