Thales Australia is a world-class supplier of piezo ceramics and high performing acoustic sensors; supporting the Royal Australian Navy for over 40 years.  In addition to the RAN, Thales Australia supplies thousands of piezo-ceramics, hydrophones and transducers to Thales in the UK and Thales France.  
The Acoustics Centre of Excellence team comprises of high-performing innovators: scientists, experts and specialists in piezo-ceramic materials and acoustic sensor technologies who are internationally recognised for their knowledge in their field.
Thales Australia has established key strategic partnerships to support its research and development of new materials and sonar products. These partnerships with Government, Academia and industry have resulted in ground-breaking sensor and materials technology.
Defence Materials Technology Centre
The Defence Materials Technology Centre (DMTC), of which Thales Australia is a founding member, delivers enhanced defence and national security capabilities, and strengthens Australian industrial capacity. 
Defence Science and Technology Group 
Thales Australia was the first industrial partner that the Defence, Science and Technology (DST) Group signed a strategic alliance with, over 20 years ago. Through this alliance, DST Group and Thales have been conducting world-leading collaborative research into key technologies for underwater sensing and mine countermeasures.
Tonnes of piezo-ceramic manufactured in the last 10 years
Invested in R&D in last 10 years
Ceramics and transducers manufactured annually
The Thales Acoustics Centre of Excellence manufactures two types of products:
Piezo-ceramic (PZT and others) materials in a variety of shapes, sizes and hard and soft types to meet the full range of applications
Hydrophones and Transducers with a range of frequency coverage, sensitivity and power output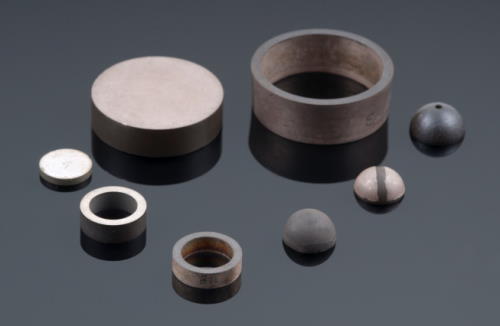 Thales Acoustics Centre of Excellence has developed its own range of piezoelectric ceramic compositions based predominately on lead zirconate titanate (PZT) but also including emerging materials including Lead Magnesium Niobium Titanates (PMNT) and lead free formulations based upon Barium Titanate (BT). 
The team has been manufacturing hydrophones and transducers for the past 40 years and is the principal supplier of hydrophones and transducers to the Australian Defence Forces. 
The Ceramic elements can be provided in a wide variety of shapes and sizes and custom material types to meet the customer's specific requirements or application.
Shapes
Cylinders, Tubes & Rings: Diameters 6mm to 150mm, wall thicknesses 0.5mm to 12.5mm, lengths 3mm to 150mm to machined tolerances down to +/-0.05mm
Discs & Plates: 3mm to 150mm to machined tolerances down to +/-0.08mm
For a range of hard & soft ceramic types (MIL-STD-1376) type 1,2 & 3,5 & 6 in proprietary formulations to maximise performance and efficiency.  Plus other non standard proprietary formulations including lead-free for different applications.
 
At Thales, innovation is in our DNA and we're always striving to develop tomorrow's technology, today. Underpinning this development is continuous investment in our technology and in our people; to bring out the best in our technical and manufacturing team and future-proof our business. 
The Thales Acoustics Centre of Excellence (TACE) is a cornerstone of our underwater systems business; developing technologies that are trusted by the Royal Australian Navy and navies of our allied forces.  In order for us to stay ahead of not only our competitors but also the technology, we have embarked on an ambitious plan to grow the TACE – underpinned by a $10m five-year investment plan. This investment will modernise the facility through new manufacturing tooling and optimised lean manufacturing processes and automate many of the complex production processes.