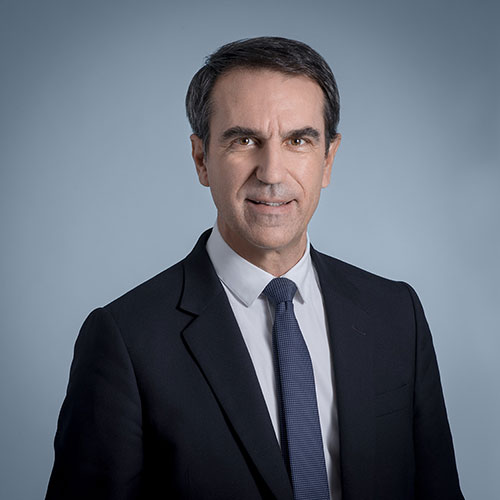 Hervé Derrey
Executive Vice-President Space
Hervé Derrey holds degrees from Ecole Polytechnique and Telecom ParisTech. He started his career at Alcatel in 1991 in the mobile infrastructure networks domain, where he was successively Validation Engineer, Export Project Director and Professional Services Director.  In 1999, Hervé Derrey took over responsibility for Wide Band Access Solutions for Europe, the Middle-East and Africa and deployed the first ADSL networks, in particular in France. In 2001, he was appointed Director of Alcatel's e-business Transformation Programme and implemented the group's  first digital transformation.
In 2003, Hervé Derrey was promoted to the role of Vice-President, Mobile Applications, covering the portfolio of prepaid billing systems and applications for mobile handsets. From 2005 to 2011, within Alcatel and then Alcatel-Lucent, he held the role of Network Integration Vice-President.
He joined Thales in 2011 as Vice-President Strategic and Infrastructure Networks. In 2012, Hervé Derrey was appointed Vice-President for the worldwide Radiocommunication Products Business Line covering the Group's radio portfolio as well as its identification and electronic warfare activities. In 2016, he became Senior Vice-President, and Chief Operating Officer for the Secure Information and Communications Systems Global Business Unit. In this role he was also in charge of the Global Business Unit's French legal entities.
In 2020, he was promoted Executive Vice President, Space.