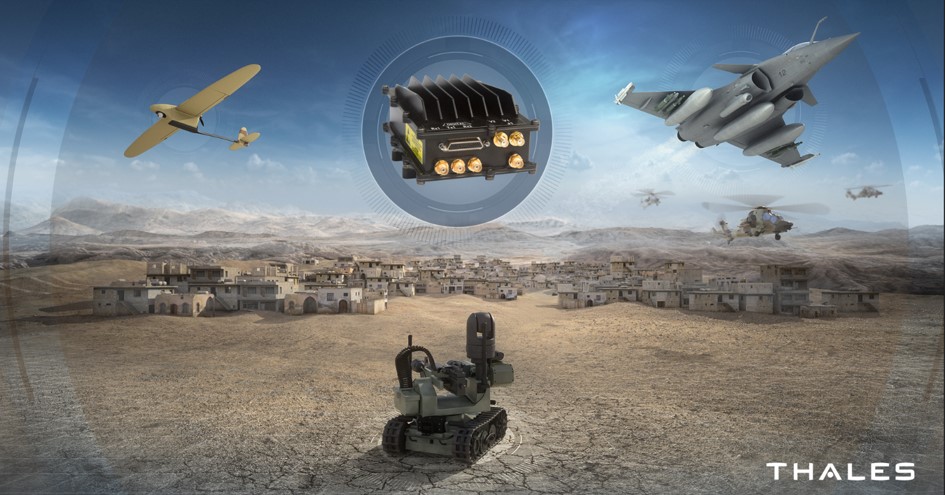 The μTMA high-rate datalink is a resilient and compact software-defined radio device that is ideally suited to the latest robotics and video streaming applications from aircraft. 
For unmanned aerial, ground and surface vehicles (UxVs), the µTMA system from Thales offers a robust and resilient link for command & control and data streaming (visible/infrared video, electronic surveillance, etc.) applications. 
 
For fixed and rotary-wing aircraft, the µTMA datalink provides video streaming capabilities for ISR (Intelligence, Surveillance, Reconnaissance) and CAS (Close Air Support) missions, supporting accurate situational awareness and helping to ensure information superiority in all current and future theatres of operations. 
In addition, the µTMA supports Manned-Unmanned Teaming (MUM-T) enabling manned and unmanned platforms to collaborate so that forces can make the most of the latest robotics technologies.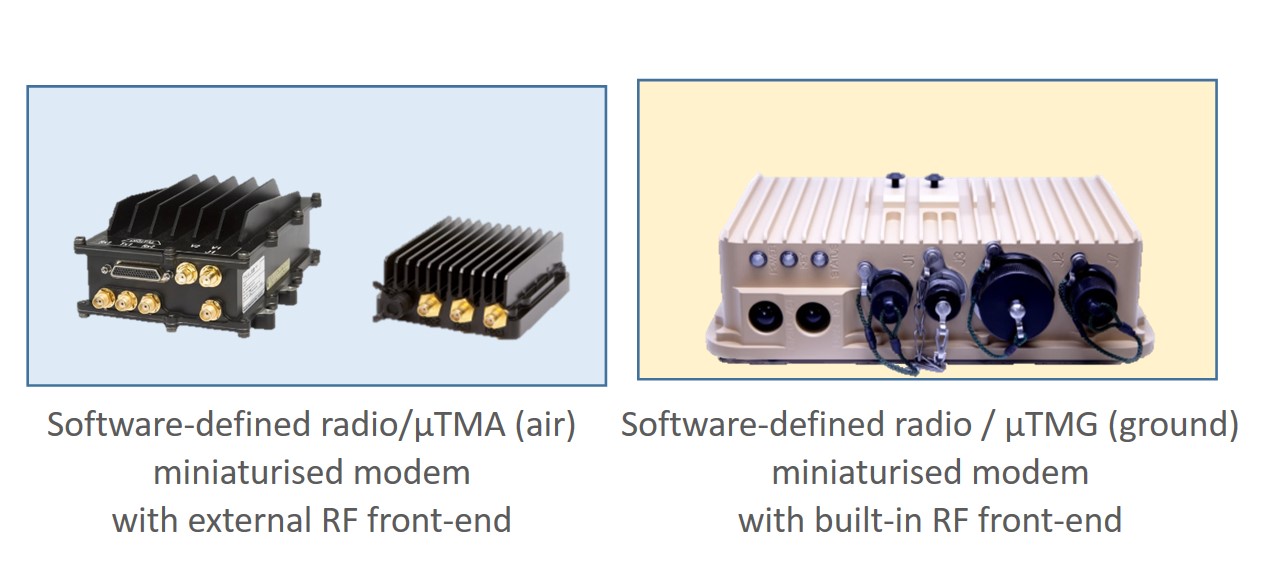 With the µTMA miniaturised datalink, drone pilots have a robust, dependable and secure solution to control the platform in even the most hostile environments. 
Its video streaming capabilities provide ISR (Intelligence, Surveillance, Reconnaissance) operators with high-definition, real-time visual information transmitted by both manned and unmanned platforms throughout the mission. The system is designed to use standardised waveforms, such as the BE-CDL waveform (STANAG 7085) as well as highly resilient, sovereign proprietary waveforms. 
The multipath advantage
In urban environments in particular, signals transmitted by drones can be disrupted as they bounce off obstacles such as buildings and vehicles, swamping transmissions with so-called multipath errors. The µTMA turns this problem into an advantage: the system's powerful processor and unique algorithms improve transmission quality by combining and taking benefit from multipath signals in real time.
The MUM-T collaboration
Manned-Unmanned Teaming (MUM-T) is helping to boost operational efficiency and reduce human exposure to danger, for example by deploying a UAV to perform reconnaissance ahead of a crewed helicopter. The µTMA datalink features dedicated functionality for MUM-T applications.
Many interfaces to ease integration
µTMA is designed to interface simply with current and future systems. It features analogue (PAL/NTSC) and digital (SDI/serial digital interface) video inputs for rapid integration with optronic systems. The video feed is then compressed in real time by a dedicated built-in encoder.
For very long range application
Various µTMA-compatible ground-based antenna solutions are available to extend transmission ranges from 50 km to over 200 km.
The µTMA product line is not subject to US export control regulations.
Today, µTMA datalinks are in service around the world on the most advanced robotic platforms as well as latest-generation helicopters and special-mission aircraft.