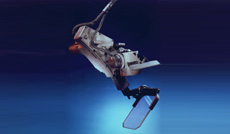 Easy to integrate
The T100 aiming and firing head-up display is a fully analogue sighting system that is easy to install on any helicopter deploying any type of guns or rockets. The number of interfaces is kept to a minimum to speed up the integration process and reduce installation costs. The lightweight, low-volume system features a fold-away reflector to ensure pilot safety. T100 is compatible with almost every helicopter plateforms and is currently in operation on board many types such as Panther, Fennec, Cougar, Gazelle...
Accurate and cost effective
Firing with T100 aiming system dramatically increases the hit probability at any distance from the target, both on defensive and suppressive missions, improving mission success rates while reducing the cost of wasted ammunition. 
Versatile
The T100 offers unrivalled versatility to provide the best accuracy and speed of intervention in all operational environments. The system is fully adjustable to pilot size and features automatic photosensitive and variable dimming in addition to compatibility with night vision goggles.