In Canada, Thales innovates for customers with high-stakes goals, critical missions and big ambitions. Wherever safety and security are critical, Thales delivers. 
In an increasingly unpredictable world, Thales is relied on to help protect citizens and make the world safer – supplying naval, air, land and joint forces with an unrivalled depth of capability.
As a prime contractor and trusted long-term partner, Thales helps the Canadian Armed Forces and other defence entities achieve mission success.

Having built a global reputation for excellence and innovative In-Service Support capabilities, we're leveraging our award-winning experience in project management, systems engineering, and integrated logistics to help ensure that the Canadian Armed Forces are mission-ready whenever and wherever they are needed.
Building on our experience managing in-service support for every major Royal Canadian Navy platform for the past 50 years, Thales is Canada's partner of choice for AJISS: the In-Service Support program for Canada's new fleets of Arctic and Offshore Patrol Ships (AOPS) and Joint Support Ships (JSS).
For the AJISS program, digital technologies like artificial intelligence, big data analytics and cybersecurity are playing a huge role in the Thales approach to In-Service Support. Generating economic benefits of more than $250 million of R&D in Canada, we're leveraging our Digital Factory, Thales Digital Solutions, in Montreal, one of two Thales Group AI-focused research centres worldwide, to create an innovation-first approach to how In-Service Support is delivered and how fleets can be managed in Canada and around the world.
We are building collaborative environments that provide real-time access to information, not just data. And, we'll be working with both industry – we have 120 partner companies in the AJISS technical support network – and academia to continue to spark innovation and skills development in areas such as predictive maintenance, life-cycle management, and logistics support analysis.
Driving Innovation from Coast to Coast
The people that we all rely on to make the world go round – they rely on Thales. From the bottom of the oceans to the depths of space and cyberspace, we help our customers think smarter and act faster - mastering ever-greater complexity at every decisive moment along the way.
Thales offers leading capabilities in the urban rail, aerospace, defence, digital identity and security sectors.
Building Canada's Innovation Ecosystem
A global leader in technological research and development, Thales Canada is harnessing its digital expertise to accelerate Canada's innovation economy.
Thales collaborates with its partners in small to medium-sized businesses and start-ups to leverage commercial technologies and open architecture to meet the robust mission needs of our Canadian customers. 
Artificial Intelligence: No Longer a "What If,"  It's a "Right Now"
As a key partner to Scale.Ai, Canada's AI supercluster, and over 20 joint research labs across the country, Thales is fully invested in offering a platform for innovation in order to design and develop critical information systems for Canada's future.
Sparking Next Generation Innovation
By building partnerships with the Canada's academic and scientific communities, we are helping innovation-driven Canadian companies build the technology of tomorrow.

Named one of Canada's Best Employers in 2022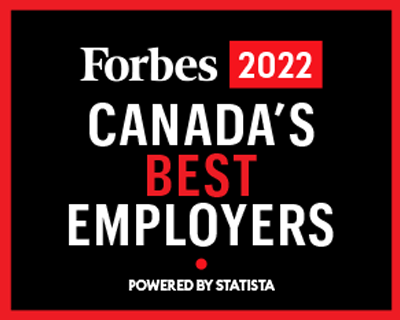 With over 2,000 Canadian employees located from coast-to-coast, Thales is committed to investing in its people. This was recognized by Forbes as they named Thales as one of Canada's Best Employers in 2022.
Investing in Talent
Thales continues to invest in the next generation of talent through robust co-op and internship opportunities established entry-level recruitment initiatives, as well as ongoing career development, mentorship and training programs for all employees.
Thales also continues its outreach activities with educational establishments to raise awareness of the career opportunities for women in engineering and other technical fields. As one of the founders of the Canadian Industrial Leadership Award, for example, Thales is working to increase employment and advancement opportunities for young women in our sector.
Canadian Collaboration
Thales partners with over 500 Canadian enterprises creating over $140 million in value annually to the Canadian economy through high-tech jobs, innovation, diversity and designing solutions for the future.
AI@CENTECH, an international accelerator program for growth stage AI-enabled startups, invites collaboration on real business challenges and high-value opportunities. Over three seasons, it has fielded 467 candidates. Together, the 17 selected start-ups have raised $35 million and received orders of $2.5 million.  

With operations in eight Canadian cities from coast-to-coast and a global presence in more than 68 countries, Thales is accelerating its Environmental, Social and Governance action plan to help build a safer, greener, more inclusive world. 
For example, Thales expects to adopt eco-design principles for 100% of its new products and services by 2023. Our newest site in Halifax, Nova Scotia is a zero carbon footprint building incorporating efficient heating and cooling technology, natural lighting and electric vehicle charging stations.
Organizations all over the world are wrestling with the opportunity and threat offered by new digital technologies such as Connectivity and IoT (Internet of Things), Big Data, Autonomy and Artificial Intelligence to improve their performance and deliver new products and services – to digitally transform their businesses.
The way Thales sees it, no organization should embark on this digital transformation journey without a trusted digital platform in place to manage data and risk. 
Canadian financial institutions trust Thales to produce their payment cards. Thales produces more than 20 million debit and credit cards for Canadians annually. And, Thales provides over 15 million SIM cards annually to Canadian telecommunication companies powering Canada's mobile communications.
Contact
Canada Headquarters: +1 (416) 742 3900