Our internship and co-op programs empower you to push boundaries and leverage the best of science and technology to help build a future we can all trust.
No matter the length or focus of your internship, you'll get hands in experience with big innovations, collaborate on real-world projects and learn from experts across the technology industry. Each role is tailored to your skillset and the project/area you join, meaning that your experience will be unlike any other.
With rotations starting every January, May, and September, our paid programs provide a chance for students to discover what they love and network with peers, mentors, and industry experts to nurture their passion into a rewarding career.
Join us in the U.S.
Discover how far your interests can take you at Thales by exploring our available student placements in the U.S. Check back for more roles to be added.
OUR COMMITMENT TO STEM
Advancing science, technology, engineering, and mathematics (STEM) education is a critical focus for Thales. Our future success depends on our collective of highly trained, highly capable technical talent, and we're committed to providing our interns and co-ops with in-depth experience in these areas.
From supporting global engineering and technology nonprofits like Technovation, to offering different leadership development programs and bursaries to female students, including the Canadian Industrial Leadership Award (CILA), we take pride in our role in inspiring the STEM leaders of tomorrow.
Supporting non-profit STEM partnerships and projects is a worldwide commitment for Thales, and is further supported through our Solidarity Program, which encourages employees to contribute their knowledge, expertise, time and energy to support important causes.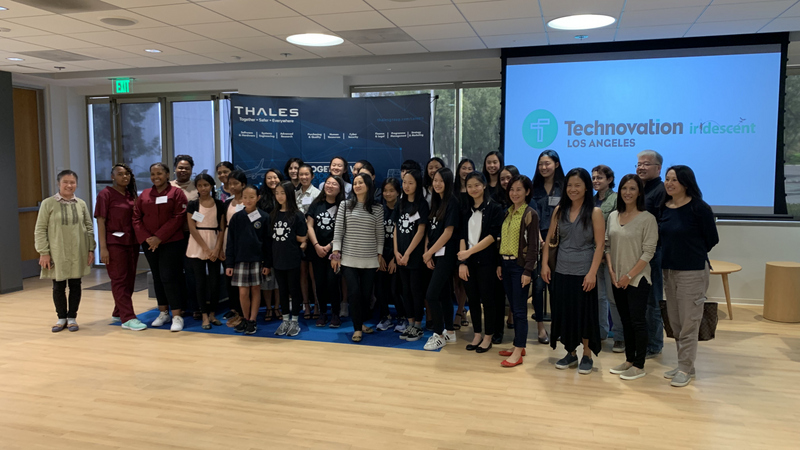 Thales' InFlyt Experience group hosts a Technovation Regional Pitch Event at our Irvine Campus (2019).