Dolphin Products: Ingenuity, diversity and innovation
Dolphin Products, based in Heidelberg West Victoria, are industry leaders in injection moulding and tooling of complex plastics products. They collaborate with Thales on a range of capabilities including Protected Vehicles and with our armaments and explosive ordnance businesses.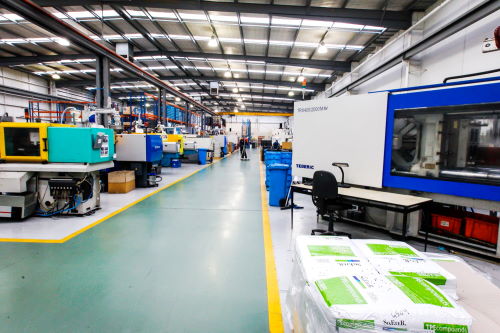 Founded in 1946, Dolphin Products was the brainchild of three toolmakers who started the business making children's toys and industrial products. In the early 50's the company, based in Preston Victoria, transitioned from toy cars to real cars; making plastic components for the automotive industry.  This region subsequently became one of the centres for automotive manufacturing in Australia and in the 80's and 90's, Dolphin Products supplied plastic interior trim components to all car manufacturers of the era.
This shift to the automotive industry enabled Dolphin Products to adapt and expand their solutions to the industries they work in today. Providing pathology products for medical industries, components for vehicles like seat belt buckles, cup holders, door handles and plastic speaker grilles; just to name a few.  Dolphin Products' engineering and tooling background gave the company the ability to understand the customers need and innovate design improvements.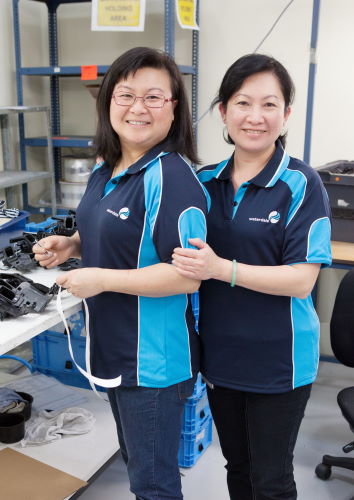 It's this ability to combine these two elements of innovation and customer understanding which Dolphin Products Managing Director Mario Turcarelli, attributes to the longevity and success of the business. 
'Why are we here after 74 years? Our ability to innovate means we can deliver what our customers need and we pride ourselves on our ability to respond rapidly to that.'
If innovation and customer understanding is at the heart of Dolphin Products, right alongside these are their people. Dolphin Products is a family run business; employing 38 people from a diverse range of backgrounds and nationalities.  
It's this family-run dynamic as well as the diversity, experience and cultures of the team that brings an exciting mix to the business.
'Innovation is our catch-cry and you can't innovate without diversity. We are proud of our diversity and gender balance in both the office and shop floor and have people working here from various industries such as automotive, hospitality, gaming and even Formula 1'
One of the industries Dolphin Products has decades of experience with is the defence industry. Thales is one of Dolphin Products' largest customers and are partners in a range of projects; working together at several Thales sites across Australia.
Just some of these projects are the provision of components for Protected Vehicles and parts for rifles which are manufactured at Thales Lithgow. Dolphin Products also produce various components for Defence based munitions for the Benalla operations, incorporating Grenades, Simulators, Packaging and Detonator Demolition device
One particular contract, in which Thales was a major partner, created the diversification to help Dolphin Products continue after the closure of the Australian Automotive Industry in October 2017.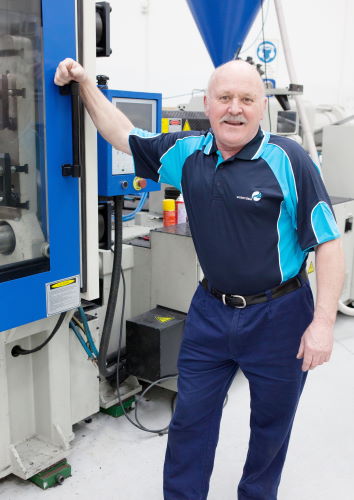 'We used to provide 44 different trim and plastic components to Holden for the Commodore and when they stopped producing in 2017, there was the potential for significant job losses. However, because of a large contract with Thales and other major stakeholders, we were able to not only retain our workforce, but grow it.  Our people are very grateful for this project that provided a foundation for employment growth, as we developed other new business opportunities.'
Thales has a strong record of supporting innovative Australian businesses, recognising their important contributions in delivering world-class capability.  Ian Crofts, Industrial Supply Chain Manager at Thales, said that the collaborative relationship with Dolphin Products has been an important partnership. 
'We have worked with Dolphin Products for a long time on complex projects and they consistently deliver high-performing products. Their ability to meet changing requirements with agility and innovation, as well as their focus on customer needs, is perfectly aligned with Thales's values.'  
The relationship between Thales and Dolphin Products has been a strong one for over 20 years and the secret to its success, according to Mario, is trust and the ability to work well on long-term technical projects together.
'We enjoy dealing with Thales. They're not only like-minded people, but they treat us fairly and respectfully and that makes for a successful business relationship.'  
Read more about Dolphin Products, here. 
For more information on the Thales Australia supply chain, please click here.
*please note, these photographs were taken prior to social distancing requirements.