The Faces of Thales - Rowan Caldwell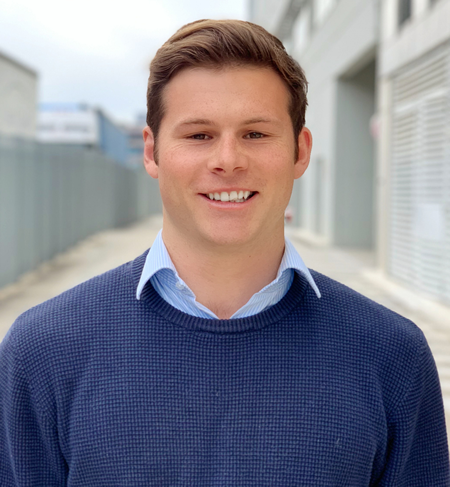 Rowan grew up in Towamba, in regional NSW on his parent's sheep and cattle farm. With a total population of 234 and a primary school of 15, Towamba is the definition of a small Australian country town.
"The Bega Valley area is absolutely beautiful," he says proudly. "There are tiny towns dotted along the coast and plenty of farms. The place I grew up on was just over a thousand acres. As a kid, I was never short on places to explore."
Thinking back to his childhood Rowan freely admits his life could have headed down a completely different path if it hadn't been for his love of science.
"I was an absolute ratbag in class at times," he laughs. "But I had a strong respect for science and loved to answer questions people don't usually ask. I used to search for definitive answers in whatever class I was taking. Even during English, not my strongest subject, I could focus in on topics like linguistics."
Rowan is a strong advocate for the benefits of growing up in regional areas.
"We had an amazing local community which generally came together for sport and music" he recalls. "I had a lot of time to myself to develop different practical skills like welding and carpentry with my grandfather. I learnt how to be self-sufficient and manage expectations of myself."
The Engineer
"To be honest I hadn't thought much about what I wanted to do when I finished school," he admits. "I thought being chippy or a boilermaker in early high school but had a certain magnetism for problem solving which led to discussions around an engineering degree with a good friend and careers advisor in my later years."
For Rowan, the move to the coastal town of Wollongong was definitely exciting, and the beginning of a steep learning curve. "Turns out I couldn't cook to save my life" he laughs out loud. "But apart from that I settled in really quickly. The steepest learning curve for me was probably centred around my professional communication and cooperative learning skills, particularly when coming from a remote farm to live in a town full of students on the New South Wales coast. It was all pretty different."
Something that Rowan picked up very early on at university was there was much more to success than just hours at the desk.
"I realised very quickly that I could get a lot more out of my four years if I put time into soft skills as well as study," he says. "I guess it was a strange direction to head at the time, but around the third year I gave up saying no to pretty much anything my network offered. And of course, there were heaps of dead ends, but it was still one of the best decisions I made at the time."
After his first year studying, Rowan moved to Albury/Wodonga for a ten-week placement with a metal casting company. The placement continued for two more ten-week stints, one in the company's head office in Newcastle, and then in Ipswich on the outskirts of Brisbane.
"The time in Ipswich was particularly challenging," he notes. "It was over summer so the temperature was around 45 degrees [Celsius] and I spent some of it working directly beside a furnace. There were days it got so hot they had to cancel the shift. I learnt a lot about traditional casting and manufacturing sites and formed early ideas about what I really liked and didn't like in the manufacturing."
Enter Thales
In his last year of university, Rowan's final project aimed to characterise a specialised welding process known as Keyhole TIG welding, developed here in Australia by the CSIRO. It was on this project that he was introduced to Thales.
"Thales actually sponsored the project, I believe," he says proudly. "It investigated a new high speed welding process that could potentially be applied to applique armour on Hawkei. Through discussion and mentorship on this project I learnt about the difficulties in developing and implementing cutting edge joining technologies."
He admits, however "while a beautiful welding process, I don't think Keyhole TIG met the requirements for Hawkei at that stage."
During the project Rowan was searching for jobs online and came across Thales. After seeing the kinds of challenges the company engaged with on his final project, he immediately applied for a job and was accepted into the Graduate Program.
The position he was offered was at Lithgow Arms, so Rowan moved to the Blue Mountains and started work in January 2018. When an R&D opportunity arose at Thales Australia's head office in Sydney Olympic Park, he took the opportunity to get back on the beach and moved to Coogee.
"I still head out to Lithgow every now and then," he notes. "I remember when I first saw the site on day one, eighteen months ago, it looked like a place with a rich heritage and history. I got out of the car and I could hear the F90s being tested on the range and in the indoor testing facility and there's definitely something exciting about that. And I noticed straight away that although the site is old, the intent to exploit cutting edge technology was definitely there."
Since starting with Thales Rowan has been involved in plenty of core projects and has even been involved in establishing new processes for rifle manufacturing.
"The amount I've learned in such a short space of time is pretty incredible," he says with a smile. "Learning fast is all about tapping into the wealth of experience we have within the company, and consolidating that with new technologies and processes. But I've also read through many papers on existing processes from metrology, to Non-Destructive Testing to barrel forging and everything in between."
When asked what excites him most about his job Rowan doesn't hesitate for a second.
"I'm doing things that have not previously been done before," he beams. "Like pushing the boundaries of light-weighting through materials optimisation on products that will be used by our current and future Defence Force, where every technical advantage we can offer may literally mean the difference between life and death for them. We rely on these men and women to keep us safe, and they rely on us. That's pretty special."
Rowan's Tips for New Grads
Ask hard questions, particularly of legacy ideas. Always be patient and note the response. Is there scientific evidence or is it based on a traditional paradigm?
Continually find new ways to engage with people of different viewpoints. Be transparent with your actions and quickly learn where you are wrong.
Find people you trust. Provide them with value to achieve their goals, not your own.
Always clarify early. Ambiguity will waste your time.