Serbian Railways rely on Thales' field elements for the first time
On 25 November 2019, Thales RaiLED signals were implemented and put into operation as a pilot project at the Serbian Railways. After three months of successful operation in the field and first experiences, the signals are now in full operation.
 
The Serbian Railways (Železnice Srbije) are the largest railway company on the Balkans with a total network of around 4,000 kilometers. Until 2003, they were part of the Yugoslav Railways. When Yugoslavia collapsed in 2003 it was divided into several individual railway networks, including the Serbian Railways. Due to the resulting fragmentation, especially regional rail traffic decreased sharply; the railways lost competitiveness compared to bus and car travel.
To restore confidence in the rail system again, the Serbian gouvernment is investing heavily in the expansion of the Serbian rail network. Among other things, the installation of leading-edge signalling equipment is being pushed in order to make rail traffic even safer and more efficient.
At Thales, we collaborate to architect and deliver high technology solutions that are innovative, resilient and sustainable. Together with the Serbian Railways and with a local partner, Thales experts have developed and authorised a version of the modern and energy-efficient RaiLED signal that is customised for rail traffic in Serbia.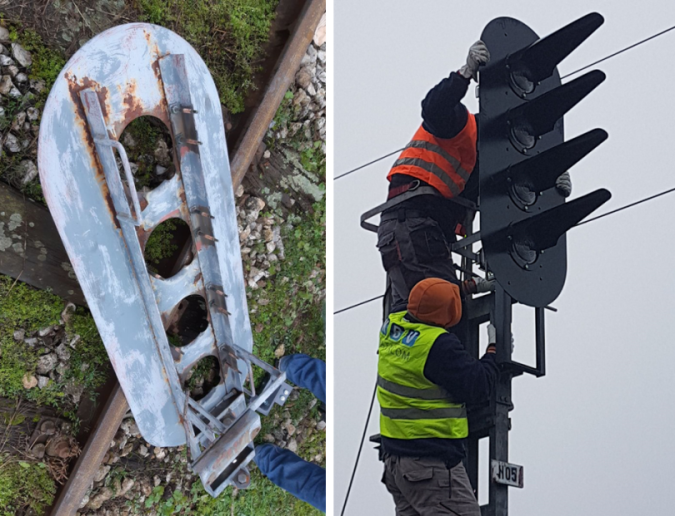 LEFT: Disassembly of old signal sign | RIGHT: Assembly of new Thales RaiLED signal
"Trust is essential for societies to flourish. We are proud of the Serbian Railways' trust." Günther Trummer, Country Director Thales in Serbia
With this project we successfully entered the field elements market in Serbia. As a second pilot project the L 826H point machine is already being planned to be installed in spring 2020.
"Together we will confidently break new ground for a railway network that goods and passengers in Serbia can trust." Marina Vlachos, Branch Manager Thales in Serbia