Thales Project Arduino: Team DroneShell fly in ahead of 2017/18 launch!
The global winners of the 2016/17 Thales Arduino competition, the American Team DroneShell, spent three days last week in Paris as the prize for their victory. A timely trip ahead of next season's launch.
 
The Thales Arduino initiative encourages engineering students to put their skills into creatively developing an Arduino based concept, so it is an important way to develop the Thales's attractiveness to potential new talent. Starting in 2014 in the UK, the competition expanded to the USA in 2015, and has since then grown internationally. This year, the competition will incorporate four more countries across the world.
Team DroneShell, representing the University of Embry-Riddle in Florida, beat all the other teams in the Thales Arduino competition to be crowned Global winners. Passion and skills combined, they applied their knowledge of Thales to design and develop a solar-powered drone landing platform, designed to service autonomous delivery and reconnaissance drones in remote locations, which could be applicable to our work in Smart Cities and Intelligence, Surveillance and Reconnaissance (ISR).
Team members Tim Christovich, Kyle Cochran and Jeremiah Lantzer touched down in Paris early Wednesday morning. Having never been to France before, this was a great opportunity for them to discover both Thales and Paris.
There was no time for jetlag for these three American students as first on the agenda was lunch at Thales Headquarters in La Defense with the Senior Executive Vice President of Human Resources, the Head of Recruitment Mobility France and the Employer Brand team. This lunch was an informal exchange on Project Arduino and the opportunities it allows, as well as the chance for them to learn more about our company.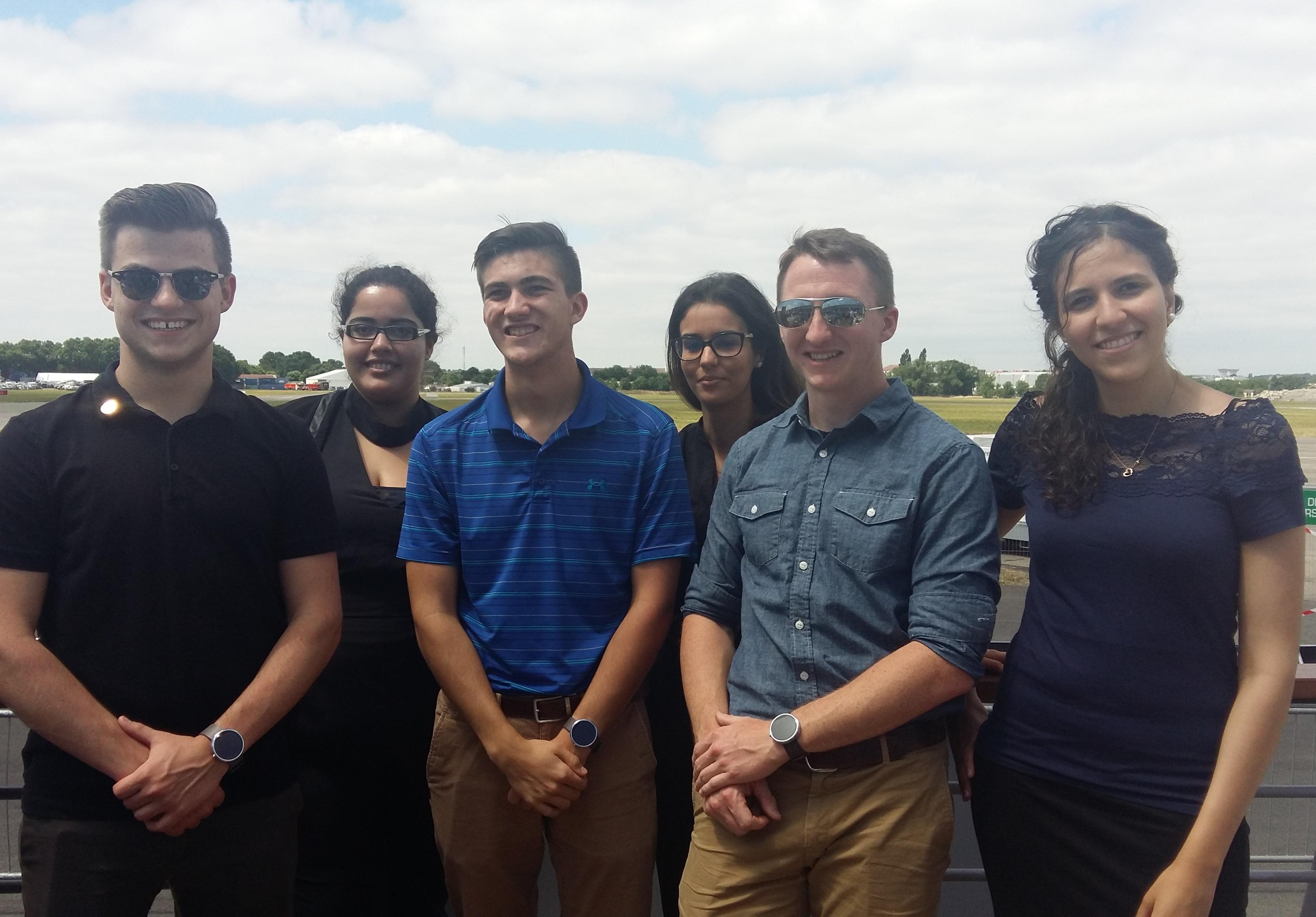 "The Arduino Challenge is a unique and brilliant way to get students excited about building new technology. For me, it has grown my knowledge as a developer and has made me truly appreciate what Thales is trying to achieve as a global leader in innovation. I'm excited to see what the competition becomes as it continues to evolve." – Jeremiah Lantzer
Day 2 started off with a visit to the Thales site in Rungis, where the students were given a presentation on Thales Air Systems and our activities in this domain, as well as a private tour of the SkyCentre and OPScentre. They also had a demo of SHAPE, an immersive control system using information emitted via user senses (eyes, gestures etc) for Air Traffic Controllers of the future, which they particularly enjoyed!
The afternoon saw the Team go to the Thales Research & Technology centre in Palaiseau, where they participated in the "Journées de Palaiseau", one-day seminars organized on key technical topics with presentations and demonstrations. They were also given a tour of the facility and demonstrations on several vital research and engineering activities.
The final day was spent visiting the Paris Air Show, as part of a VIP student day organized by the Recruitment team, giving the students the opportunity to talk to other potential future candidates while visiting the Thales Pavillion and stand at the "Careers Plane" (Avion des métiers). They also had the chance to meet the winning Arduino team from France, girl-power Team DSD. The highlight of the trip was the Air Show in the afternoon, where they got to see, amongst others, the "Patrouille de France" and the Rafale live in action.

 
It was only fitting to end the trip with a picnic by the Eiffel Tower with the YES (Young/Your Employees Society) network, allowing them to meet and talk with employees from different Thales sites and job families. The three students declared themselves to be amazed to see so many Thales people right in front of an iconic Parisian landmark! 
Tim Christovich is now an intern at Thales, InFlyt Experience, based in Melbourne, Florida.   
"I started my internship after winning the Arduino competition, but had submitted my application long before. I had heard of Thales and had been familiar with the company since I started my first semester at my university. In one of my first classes, we were asked to research and give a presentation to the class on a prominent aerospace company - our professor assigned us to learn more about Thales. After learning more about the company, I had a consistent interest in everything Thales does and wanted to take part." –Tim Christovich
Tim is not the only Thales intern to have participated in Project Arduino, which just goes to show how important this international competition is to the attractiveness of Thales!
For more information visit www.thalesarduino.com