Top 8 reasons to work for Thales
Why work with us? From competitive compensation and flexible work arrangements, to diversity & inclusion and more, see the top 8 reasons why starting your career with Thales will open up a new world of possibilities.
#1 Dynamic, cross-industry work.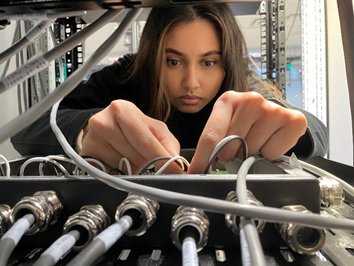 Thales engineers advanced technology solutions that make the world better and safer. Even if you've never heard of Thales, you've probably interacted our solutions in your day-to-day life.  
Recently checked your bank balance on your phone?  Thales technologies secure the information systems of 19 of the world's 20 largest banks. Commute to work by train?  Public transport operators rely on Thales for advanced train control, supervision and operations management systems to make your journey safer. Like watching movies at 35,000 feet?  Thales InFlyt Experience's solutions keep you connected and entertained no matter the destination.
#2 Driven by innovation.  
At Thales, innovation is part of our culture, and is supported through our ongoing R&D investments, innovation competitions, and strategic acquisitions. This includes our  North American Digital Solutions group, which offers capabilities from deep technical research to infused-AI solutions to bring new products to life across our markets. 
We are recognized around the world for our innovative employees and solutions, which help our customers and partners navigate a world that is increasingly fast moving, unpredictable, and full of opportunities.
#3 Competitive compensation and benefits.
At Thales, we believe that a total rewards package must be competitive, allow for flexibility, and create a sense of ownership within the company.  In addition to being provided with a competitive salary and benefits plan, Thales employees have a retirement savings plan, which includes a voluntary company matched contributions option, as well as a biannual option to buy discounted Thales shares.  All Thales employees are also eligible for a bonus plan based on company and individual performance.  
At Thales, wellness is also at the top of mind, and there are many different programs that you can take advantage of to benefit your physical and mental wellbeing, including different lifestyle programs, and much more.  
#4 Smart work.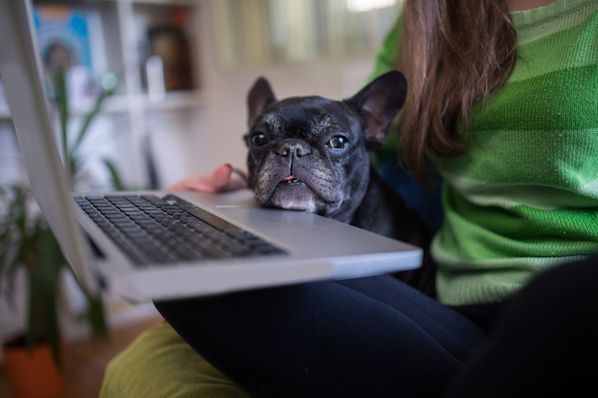 Globally, the pandemic has driven organizations and employees to embrace different ways of working.  Thales leveraged its Smart Working program—which was already successful in Australia and the UK—to mitigate the impact of the pandemic while improving collaboration within our teams, enhancing communications, and continuing to deliver results to our customers.
Through the implementation of new processes to organize our day-to-day work, we have increased the flexibility on the how, when, and where we work. Details about flexible work arrangements, including hybrid and/or remote working, will be highlighted in individual job postings.
#5 Limitless opportunities for learning & mobility.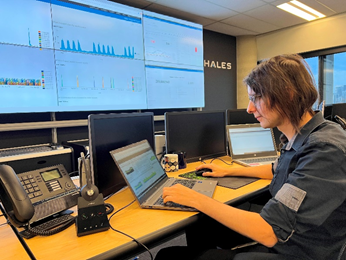 At Thales, we promote an "always learning" culture— empowering you to learn what you want, where you want, and when you want.  We recognize that if we want to continue to innovate to build a future we can all trust, learning is a life long journey.  
You will have access to trainings, courses and resources offered through digital learning platforms, mentoring programs, and much more.  We also encourage employees to obtain and maintain professional memberships linked to their discipline, and can offer assistance to cover your annual fees.  
Mobility is fundamental for a global company like Thales that faces international expectations, and operates with customers and partners on every continent.  We recognize that opportunities for mobility are the best way to keep our people growing and learning, and ready for future challenges.  In support of this, we ensure that all Thales opportunities locally and around the world are visible and open to all employees, and we have roles dedicated to internal mobility to support this.  
#6 Commitment to Diversity & Inclusion (D&I).
We believe that creating a diverse workforce is not enough; it's critical that we promote an inclusive environment where everyone feels empowered to contribute to their fullest potential regardless of origin, gender, age, sexual orientation, culture, educational background, religion, or disability. Thales is passionately committed to enabling each of us to bring our whole, creative and unique selves to work every day. Our D&I objectives are incorporated into our annual bonus plan structure, in recognition of the importance of the collective role we all play in making this environment a reality.
#7 Corporate Social Responsibility. 
At Thales, we're fully committed to helping to make the world safer, more respectful of the planet, and more inclusive to all.  In our mission to build a future that we can all trust, it's essential to address the environmental, social, and governance issues that impact the world in which we operate. We believe wholeheartedly in harnessing the power of science and technology to tackle these issues in both the physical and virtual world.
In addition to our personal commitment to reducing our carbon footprint, Thales works offers its customers sustainable, eco-responsible functions and services that will enable them to reduce their own greenhouse gas emissions.   
#8 Part of our community.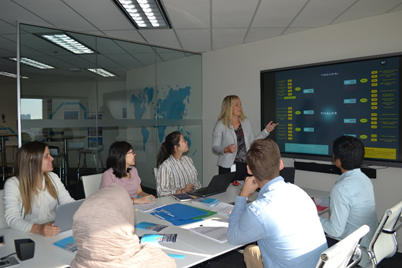 We recognize the importance of building relationships and connections with others, especially when you are just starting your career.  Whether it's working closely with your mentor to help guide you through your career, or joining one of our Employee Resource Groups (ERG), at Thales you will have limitless opportunities to build personal networks. 
As a member of the Early Careers community, you will also get the chance to network with others in your program through special projects and regular events.