Thales Mine Hunter Coastal Team Bounces Back
HMAS Waterhen in Sydney is the Royal Australian Navy's lead establishment for Mine Warfare, and home to some of the most advanced Mine Countermeasure equipment and technology in the world.  It is also where approximately 30+ Thales staff and contractors are based; providing in-service support to the Royal Australian Navy's (RAN) Mine Hunter Coastal (MHC) fleet.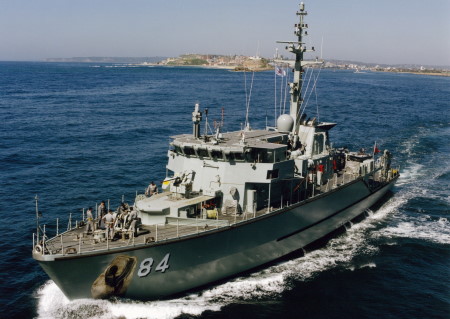 The MHCs, and other platforms at HMAS Waterhen, are scheduled to complete External Maintenance Periods (EMP) twice a year; where they receive required maintenance including refurbishment and replacement of critical mission systems.
Typically, ships Maintenance Availability's are sequentially planned, with a potential overlap with another platform of around one week however, due to COVID-19 and associated stoppages and restrictions, the team were recently faced with providing critical support to three platforms at once. 
This was the first time in the history of the MHC ISS Contract, the team were faced with the challenge of providing maintenance support to the 3 MHCs.
Justin Bayliff, Minehunter In-Service Support Program Manager, said in addition to COVID-19 safety requirements, including Rapid Antigen Testing and social distancing, the team implemented a range of initiatives to ensure the platforms could be supported while keeping everyone safe.   
'Firstly, our scheduling process became incredibly granular, almost down to the hour, which helped manage who was in attendance and how many people were working at one time. We also utilised our technical support network to move work to other vendors which mitigated issues associated with people travelling in from LGAs of concern.'
Implementing these strategies and working within the new requirements was a challenging experience for the team, but also a rewarding one, with the three platforms receiving their EMP safely and with minimal disruption. Justin attributes this to not just the initiatives that were implemented by his team, but to the collaboration of all involved. 
'This really was a joint effort with Navy, Capability Acquisition and Sustainment Group and our local supply chain. It demonstrates the importance of communication and collaboration to achieve the best for the Navy.' 
To read more about HMAS Waterhen, please visit the Royal Australian Navy site, here.