Meet our CareerTrackers intern, Zayne
This year marks our second year of partnership with CareerTrackers, a national non-profit linking young Aboriginal and Torres Strait Islander adults with employers to participate in internships. This week we'd like to introduce you to one of our brilliant Career Trackers, Zayne who is working in Digital Systems.
Zayne, Digital Systems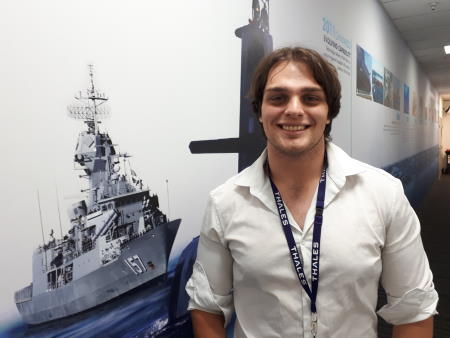 Our CareerTrackers intern Zayne is a man of contrasts. By day, he quietly works on an avionics project at our Rydalmere site surrounded by engineers, whereas by night he spends hours playing loud rock music on his guitar; a hobby he first embraced as a 14-year-old teenager. "The place I'm staying at has a music room dedicated to musicians so I'll practice for hours on end. I think if people ever saw me from outside of work they'd be shocked," he laughs. 
However, Zayne is quick to point out that if you peel back the layers from the seemingly tranquil corridors of Thales Rydalmere, you'll discover a buzz in the air. "Engineering wise, Rydalmere is very active and everyone's always busy. It's fantastic, I quite like the atmosphere and have signed up for coffee roulette to meet more people from across the business and learn how they got to Thales." 
This is Zayne's third internship through CareerTrackers and one that's most closely aligned to the path he wants to pursue after he completes his Computer Science / Computer Systems Engineering double degree from the University of Newcastle. His interest lies in the lower end level of computer systems, which focuses on working with individual bits of machinery that controls the higher end level that users see on their screen. "I'm kind of like an electrical engineer or broker," he explains. 
Embedded within our Digital Systems business, Zayne is analysing older testing documents from Wedgetail flight simulation data. The data for this particular time period is graphically visible, but Zayne's job is to try and digitise the data to retrieve the original sample data sitting behind it. "It's quite difficult to automate in such a short period of time and although I failed with some solutions, luckily I'm always able to build on the bones of the old solution." 
Our defence work was a drawcard for Zayne as he'd once considered joining the military, and the heightened security at Thales came as no surprise - "I thought I'd be patted down on my first day!". However, the biggest standout of his experience is the autonomy. "Thales has just let me do my thing. It's the first time I've had this much autonomy. Having little to no interruptions means I can put all my energy into the project I've been given."
He hopes to return to Thales for another internship and is grateful for the ongoing opportunities through CareerTrackers. As a proud Murrawai-Ngemba man from the north-west New South Wales town of Brewarrina, Zayne first learnt of CareerTrackers from the Wollotuka Institute - a support centre for indigenous students at the University of Newcastle. Despite an initial reluctance to join due to his introverted nature at the time, Zayne hasn't looked back since. 
"I certainly don't regret it because each internship has provided me with invaluable experience. It's definitely something worth doing."