Breaking Barriers in STEM: Celebrating the Success of Black Women in Tech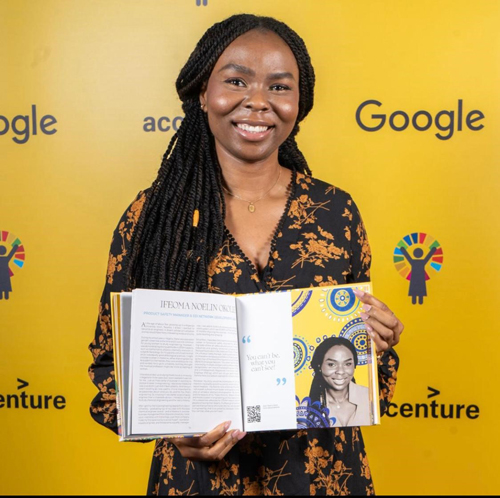 Thales in the UK are proud to announce that Ifeoma Noelin Okolie, Product Safety Manager and EDI Network Development Lead, was selected as one of the 51 black women in the UK and Ireland making an impact in the tech industry and her story has been featured in The Voices in the Shadow Volume 3 book.
This achievement is not only a testament to her brilliant work in the STEM (science, technology, engineering and mathematics) industry, but also highlights the importance of representation and visible role models in STEM. In celebration of this milestone, Thales in the UK has sponsored the book launch and has acquired over 1000 copies of The Voices in the Shadow Volume 3 book, which will be shared across schools as part of our commitment to encourage and support the next generation of STEM talent.
You Cannot Be What You Can't See
Representation plays a pivotal role in shaping our aspirations and achievements. For far too long, the lack of diverse role models has hindered the progress of underrepresented groups in STEM. It's reported that Black, Asian, and Minority Ethnic backgrounds, only account for 8% of the STEM workforce. The Voices in the Shadow book aims to give black girls and women the empowerment they need to feel that there is a place for them to flourish professionally.
Ifeoma Noelin Okolie said, "Historic stereotypes and unconscious gender-career biases limit the progression in the STEM industry. It is everyone's responsibility to debunk these so that we can build the pipeline of STEM talent that will ultimately place STEM businesses and the UK at the forefront of innovation and technological leadership. 
By sharing my story, I hope to encourage young black girls and women to pursue the career they want. I recognise the path to success can be challenging, but with hard work and perseverance, I believe anyone can excel".
Take Action for an Inclusive and Innovative Future
We all have a role to play in creating a more inclusive and innovative future and at Thales in the UK we are committed to fostering a culture that promotes equity, diversity and inclusion. 
We recognise we still have work to do, but we are taking steps in the right direction to have a workforce that is truly representative of our communities – from publishing our first Ethnicity Pay Gap in 2023, to sponsoring employees through the Solaris Executive Leadership Development Academy programme.
It's also important to have greater representation from our leaders in the business and recently our Chief Executive and Chairman (CEO) Alex Cresswell, shared his commitment and sponsorship of both the Business in the Community Race at Work Charter, and our Thales REACH (Race, Ethnicity and Cultural Heritage) network - a network that aims to foster ally-ship with our senior management team and our business to achieve representation across all functions.
Looking forward to the future of STEM
By having voices like Ify's amplified through The Voices in the Shadow book, it will hopefully inspire all young girls and women, especially those from black and minority ethnic backgrounds, to pursue their dreams in the STEM industry.
You can learn more about the Global Tech Advocates for Black Women in Tech and The Voices in the Shadow books here.