Thales engineering role models inspire a new generation of primary school STEM pioneers
Who we work with
Thales has been working in partnership through the summer of 2022 with STEMettes, a national social enterprise that inspires and supports young women and schoolgirls to explore STEM careers. 
As part of the STEMillions programme, three female engineers from Thales provided inspirational "meal plans" that describe their career journeys, for students aged between seven and 11, in 10 participating state schools.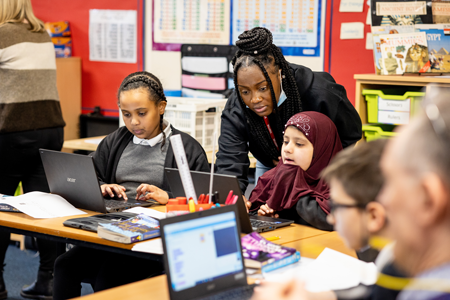 Inspiring role models from Thales have been introducing primary school children, many in deprived parts of the UK, to the possibility of a career in science and engineering.
Through the summer of 2022, Thales worked with national social enterprise STEMettes to provide classroom teachers with a STEM box, full of exciting classroom activities, in 10 state primary schools across England and Northern Ireland.
STEMettes was founded in 2013 to encourage more girls and young women to take an interest in STEM subjects (Science Technology, Engineering and Maths). The organisation runs panel events, hackathons, a mentoring programme and a platform for girls interested in STEM careers.
As part of its 10-week STEMillions programme which ran from February to July, Thales and STEMette resources supported teachers providing young students, aged from 7 and 11, to deliver a range of STEM-based challenges and after-school activities, which can earn teams national certificates and prizes.
Thales spokesperson Kirsti Godson said: "Partnering with STEMettes, our engineers helped to inform and inspire more young people across the country to take an interest in STEM subjects and to explore future job opportunities in the field. 
"The activities showcased the great diversity of the role models we have in Thales, which didn't go unnoticed by the students, and we look forward to working together again with STEMettes in the future."
The majority of the ten schools were located in the lowest 50% most deprived areas in the country, based on ONS figures, with 74% of participants eligible for free school meals.
A report of the programme, which ended in July, highlighted some impressive results. 40% of teachers saw a high level of engagement, including among girls, and an improvement in mental health. It also revealed that the students taking part benefitted in a number of other ways:
Opportunities to develop problem solving skills
Raising interest and career aspirations in sciences, especially among girls
Revealing opportunities for girls in STEM careers
Introduce new topics and encouraging "outside the box" thinking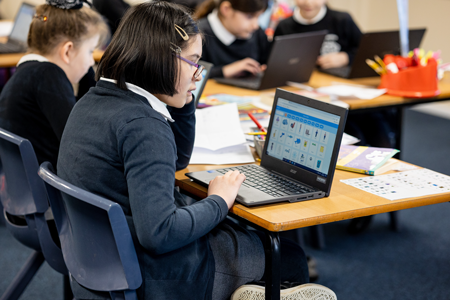 The participants shared what they had learned from the scheme's activities, with female pupils responding strongly to the Thales role models. Feedback showed they were more confident not only in themselves but also in their ability to excel in STEM subjects.
Less confident students were also able to realise that they could enjoy science, with teachers reporting a buzz created across their entire school.
Each activity box provided teachers with 10 hours' worth of "meal plans" by inspirational female scientists and engineers full of advice, useful links and activity ideas, and all the equipment and instructions needed for a range of classroom activities.
Activities included projects involving coding and are designed to increase children's perception of STEM careers, while building confidence in skills, developing leadership and widening their knowledge of STEM subjects.