Thales in the UK employee receives Coronation Champions award for volunteering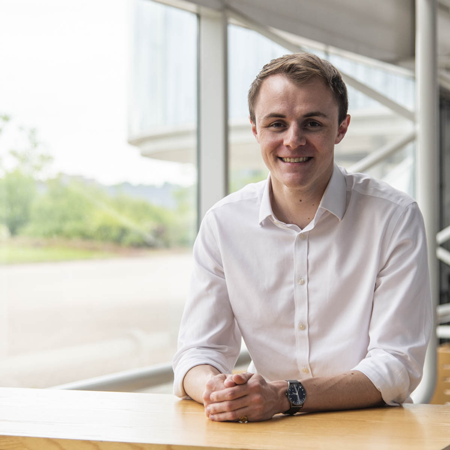 Josh Finn, Graduate Engineer at Thales in the UK, has been awarded a Royal Voluntary Service, Coronation Champions Award. The awards, in honour of Their Majesties' Service, were created to celebrate 500 extraordinary individuals across the country who have significantly contributed to their communities.
Josh has been recognised for his volunteering work, which includes fundraising for charities such as Breast Cancer Now and Asthma + Lung UK (Thales' Corporate Charity Partner), but  his contribution to supporting students and his work in STEM (science, technology, engineering and mathematics) outreach really singles him out.
Masters of the Astroverse
Together, with his friend and fellow Engineer Myles Johnson, Josh co-founded Astroverse, a free service that emails subscribers each month with a comprehensive list of space-related  conferences, lectures, networking opportunities, and other relevant events. 
Josh elaborates, "Myles and I stumbled across each other at a poorly promoted local space industry networking event. We got talking about how hard it is for students to learn about space-related events – especially if you're new to the industry. We discussed how useful it'd be if there was a listing detailing what's happening, where, and when. Then lockdown happened and, with time on our hands, we found ourselves building Astroverse."
The website's gone from strength to strength. After nearly three years, it has over 750 subscribers (made up of students, professionals, special interest groups and employees such as Airbus, Lockheed Martin and Thales Alenia Space). So far, it's connected people to events over 2,500 times. 
Volunteering at Thales in the UK
Every employee at Thales in the UK can spend up to 24 hours volunteering each year and Josh uses those hours to devote his time to working with primary and secondary school students through STEM UK.
Asked why he does so much volunteer work, Josh said, "I really enjoy it. But, as an introvert, volunteering has helped me develop not only my technical skills, but also my leadership, communication, and organisational abilities – in other words, those soft skills I'll need as my engineering career develops. So I like to think I get as much from volunteering as volunteering gets from me."
Group dynamics
Josh's passion for STEM has seen him support other programmes as a volunteer. For example, he mentored a team of high-school students on a project to design a factory solution for Thales Glasgow run by the Engineering Development Trust (EDT), a UK educational charity set up to engage young people in STEM subjects. 
As Josh explains, "One of the most valuable experiences you can have as a student is being involved in a group project where you learn how to work with other people to solve problems. Typically, school and university syllabuses require students to work on their own or independently, which is not how industry works, so the sooner they're exposed to working as a team, the better."
Josh has also volunteered for the UK Students for the Exploration and Development of Space (UKSEDS) charity, the UK chapter of the global SEDS movement, where last year he helped organise the Olympus Rover Trials, an inter-university student competition to design and build a mock Mars rover. And next year, he's stepping up to become the Competition Lead.
His ambition to support STEM initiatives continues, with Josh hoping to develop an inter-university programme for the Royal Aeronautical Society (RAS) to design a space product. "Collaboration between widely dispersed teams is integral to developing the UK space industry. This project aims to give students from different universities the opportunity to work together to create something tangible to show prospective employers, while also gaining experience of working this way."
Josh's commitment to giving back to the community and making a difference to those around him is truly remarkable. He's a shining example of how people can use their passion and skills to make a difference and inspire the next generation into these disciplines – it's little wonder he was nominated for, and won, a Coronation Champions Award. 
You can find more information on Astroverse here.