Thales Alenia Space in the UK, established in 2014, is a world leader in space systems design, integration and manufacturing with advanced space engineering facilities in Bristol, Harwell and Belfast.
Thales Alenia Space is a leading actor in the design of satellite propulsion systems, satellite subsystems and system design studies.
Working with valued partners, Thales Alenia Space in the UK provides the assembly, integration and testing (AIT) of new experimental payloads in both the civil and military sectors, whilst enhancing its capabilities as a prime contractor in the UK for major space missions.
Thales Alenia Space in the UK is a committed partner to the European Space Agency (ESA), the UK Space Agency (UKSA), industry, government and academia.
Thales Alenia Space – with an expanding European and global footprint – delivers solutions to support a wide range of applications, whilst investing in the UK supply chain and helping to bridge the digital divide.
Thales Alenia Space in the UK has been selected by the UK Space Agency to undertake the AIT for MicroCarb; a UK-French satellite mission scheduled for launch in 2020.
Thales Alenia Space in the UK is a major contributor to the Spacebus NEO telecommunications satellites, in particular regarding the propulsion sub-system embedded in the platform. Spacebus NEO satellites use state-of-the-art technologies, combining heritage and innovation, while addressing the needs of a hyper-connected world.
Thales Alenia Space has won four Spacebus NEO contracts in the last three years. All of them will use a platform that is 100% electric. The new satellites will be digital, agile and flexible, meeting both current and future telecom market requirements. Furthermore, they will contribute to the reduction of the digital divide, bringing connectivity to millions of people.
Thales Alenia Space is a prime contractor for the ExoMars overall program, led in conjunction between ESA and Roscomos. The aim of this program is to try and discover any traces of former life on Mars, analysing both the martian atmosphere and the soil.
Thales Alenia Space in the UK is a major contributor to the ExoMars Rover. Planned for launch in 2022, the Rover – included in a Russian descent platform – is dedicated to analyse samples of the martian soil, attempting to find bacteria and answer David Bowie's existential question: "Is there life on Mars?" Thales Alenia Space in the UK is also contributing to the BepiColombo mission, an ESA program, to explore Mercury.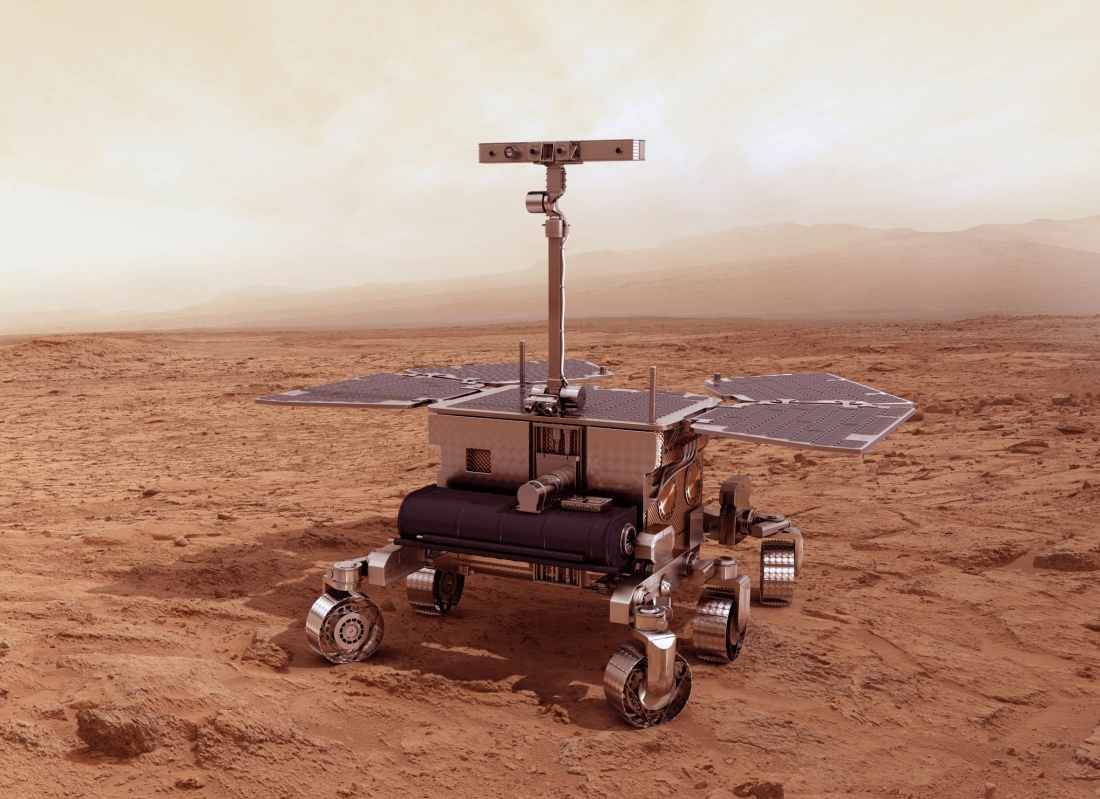 © ESA
Thales Alenia Space in the UK is responsible for the broadband radiometer, a spaceborne instrument developed as part of ESA's 'EarthCARE' program, which will help scientists better understand and monitor climate change.
On 18 October 2016, in a ceremony attended by British astronaut Tim Peake, Thales Alenia Space in the UK celebrated the opening of a new propulsion integration centre in Belfast.